1

An unexpected place for music to come from
Georgia
JESC
Bzikebi Studios
All for one and one for all
Hello!Project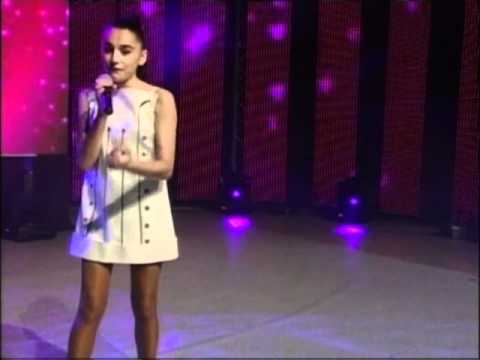 One of my interests, besides J-pop, is the Junior Eurovision Song Contest, JESC. They have held this contest for about 10 years, at various venues in greater Europe. One thing I like about this event, besides the music and dancing, is that I get a chance to learn a little about where the artists come from, particularly the smaller countries in Europe. One such country, that I am going to address in this post, is the former Soviet republic of Georgia.
An issue with JESC is that the contestants are required to have songs that are in their national language. This is unlike the adult Eurovision Song Contest, that allows contestants to sing in their language of choice (so they often sing in English). So, in JESC, the contestants from countries that have languages that aren't widely spoken (like Dutch) are at a disadvantage. In 2008, the contestants from Georgia came up with a brilliant way to deal with this issue. They were a group of two girls and a boy called Bzikebi. Anyway, the way they got around it was that they sang in a made-up language, or gibberish. They came out on stage dressed up like bees, and they sang their song "Bzzzz bzzzz bah roh . . ." and so forth. It was a great song, and they wound up winning the contest. In 2009, they came back with another group, called Group Princesses. Their song was "Bluebird." I really liked that one, too, but it didn't do very well in the contest. Along about this
time, they established an organization in Georgia, with a goal of training young singers. It was (and is) called Bzikebi Studios, after the group that won JESC in '08. I would compare Bzikebi Studios with Hello!Project, but with a few young men as members. In 2010, Georgia (Bzikebi Studios, specifically) put forward Mariam Kakhelishvili as their JESC contestant. Her song was "Mari Dari." While "Bluebird" was in Georgian, with "Mari Dari," they went back to gibberish. This was actually the song and PV that got me interested in the music coming out of Georgia. Mariam is a dynamite singer . . . she can really belt out a tune. She can sing with a great deal of feeling (or soul) as well. She did well in the competition, coming in fourth. In 2011, Georgia (i.e., Bzikebi Studios) came up with another phenomenal JESC entry, Group Candy. This group was made up of five young ladies, each of whom is an accomplished singer in her own right. While all of the members are good, the best singer is Ana Khanchalyan.
She is a very powerful, soulful singer. Her singing reminds me in a way of Christina Aguilera. I'd have to say the Mariam is a somewhat better singer, I actually like Ana better. (Ana is better looking, ha ha!) The song of Group Candy was "Candy Music." It was a great song, with great choreography, and a great PV. Needless to say, Group Candy won the competition in their year. As an aside, about a year after the competition, Group Candy came out with another single and PV, "Summer Day." This is also a great song and PV. In 2012, Georgia had a group called Funkids in JESC. They were made up by one boy and three girls. They had an excellent song, "Funky Lemonade." The PV was good, too. One highlight of the group is the dancing ability of the boy (i.e., breakdancing skills). Funkids came in second. In my opinion, they should have won. I thought they were much better than the winner. The JESC entry of Georgia in 2013 was awful, in my opinion. So, I'm going to skip them.
Beyond JESC, there are a couple of other outputs from Bzikebi Studios that I'd like to mention. Just prior to the Funkids' performance in the 2012 JESC, Bzikebi released a PV that included all of the artists of the studio. It is titled "Welcome to Georgia." If you want to see several of the people mentioned in this post, I suggest you watch that video. (Look for Welcome to Georgia Bzikebi Studios on YouTube.) This video reminds me of Hello!Project's "All for One and One for All," except Hello!Project's "All for One and One for All" has much better dancing. Maybe the fact that Bzikebi Studios has younger artists prevents them from doing more complicated choreography. The other artist I'd like to mention is Lizi Pop. She has a song and PV out on YouTube called "Make Up." She is so cute, and the song is quite catchy. It is nice, with the exception of the rap break, which is embarrassingly bad.
OK, well, that is my introduction to the youthful pop music from Georgia (Bzikebi Studios, in particular). I hope I inspired at least one person to discover this music.