Laharle
Member Since 01 Jul 2013
Offline
Last Active Feb 21 2023 12:56 AM
Anyone remembers if Zukki/Haruna/Ikuta said sth about the theatre shows they never took part of? Like was it their choice or were they neglected? I was sure it was the later but...
Updated 26 Apr · 2 comments
About Me
From Argentina, so I'm bound to make English mistakes since my first language is Spanish (point them out nicely since I like to learn). Future Vet.
[ Morning Musume // Angerme // Takechan // Sakura // Also liking CG. ]
Big Arashi fan, Nino my top bias in the Idol Kingdom and all Japan. afightsong.tumblr.com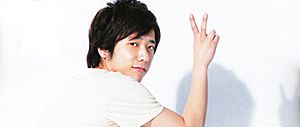 ~
---
Community Stats
Group

Senpai

Active Posts

4436

Profile Views

7624

Member Title

ラブ・ミー・チェーン

Age

Age Unknown

Birthday

Birthday Unknown

Gender

Female
Previous Fields
Favorite Idol

Arashi, Ninomiya Kazunari
Viewing Profile: Laharle