바니 「вσηкyυ」
Member Since 04 Nov 2010
Offline
Last Active Jul 09 2013 12:36 PM
My oshi's better stop leaving. First JunJun and now Sayaka ; ; I hope Takamina has no plans on leaving anytime soon.
Updated 08 Apr · 1 comments
About Me
Bonnie. 20. New York.

Honestly, there isn't much to say I guess. I love Korean and Japanese music. I tend to doubt a lot of what I do but I'm proud for being who I am (mostly). I would love to learn Korean and Japanese and I would love to travel the world.



I find this man simply amazing. His smile. His laugh. His personality. His way of carring himself. If I could describe everything, it would take hours. There are not enough words to describe what I feel about this man! I may sound a little obsessed from time to time and I don't mean too… but it can't be helped! He really is such a sweet man. I can see how close he is to the other members and how he enjoys being in the group, even during the more… embarassing moments, haha. I love how his smile is just so relaxed and genuine, showing he loves what he does.

And those are arms!? Oh my god. I would do anything for a hug, I bet his hugs would be amazing. I could see him being the type that wouldn't want to let go for anything and keep his hold no matter what. That might be me and my imagination but man, I could just see it happening. That's beyond all the reasons, lol. But he looks so natural on stage while being cute and adorable at the same time. I can literally spend hours writing down exactly what I love about C.A.P but I don't think that would be wise.

사랑해 캡 ♥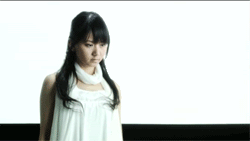 The first time I saw JunJun, I knew she would be something special to me. It was during 4th Generation member Yoshizawa Hitomi's graduation concert where the two Chinese foreign exchange students were introduced: JunJun and LinLin. When JunJun got on stage and started talking, something just clicked in me! I knew she would be my favorite member, she would be something special. The way she pushed through her speech even though at the time she knew very little to no Japanese, was amazing! Then when seeing her in 'Onna Ni Sachi Are' it was dead set in my mind that she was everything~ ! She has personality, determination, humor, an everlasting love for music… and so much more. I love how she never gave up even if the tables were turned and if everyone was trying to discourage her.

When she first debut in Japan, there was a lot of criticism about how she should just go back to China and how no one wanted her. JunJun responded in her personal blog defending China and herself.

Not to mention, she's beautiful and when she smiles… my heart just melts! She's no afraid to cry, to let anything get her down or stop her from what she really wants. In my eyes, she's the definition of what an idol should be. She loved to joke around with her senpai's, poke fun, show every side of her personality from cute and childish all the way to adult and mature. JunJun will forever be my favorite H!P member and idol.

愛してる  ジュンジュン ♥
---
Community Stats
Group

Senpai

Active Posts

1456

Profile Views

13369

Member Title

愛してる ジュンジュン ♥

Age

32 years old

Birthday

May 29, 1991

Gender

Female

Location

Chillin' with JunJun
Previous Fields
Favorite Idol

JunJun, CAP, Minho, Daesung, Zhou Mi.
Viewing Profile: 바니 「вσηкyυ」