avatar 2011.08.26
Uploaded by
goratnik
, Aug 26 2011 10:31 PM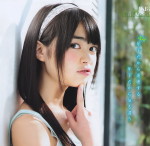 Time to change avatar, I feel it should be more "idolic" now. Aaamin* had a great part in AKBINGO!'s latest performance, so now it's her turn.

"Dragon ball hunter" is currently as photo.

I must praise XeviKira~'s avatar!

awesomecakes has one good also. Matches avatar.



* also hairstyle *_* like double:
X
X
X
X
V

left speechless.
avatar 2011.08.26