1

[LIVE REPORT] ZOC, tears and resolution over fights over feelings between members at Sendai show
[LIVE REPORT] ZOC, tears and resolution over fights over feelings between members at Sendai show
2021.08.15
On August 14, 2021 (Sat), ZOC held two shows at Sendai darwin on the Miyagi prefecture stop on their ZOC FOR PRAYER TOUR 2021 SUMMER, a live house tour covering 42 performances at 22 venues across the country.
On this tour, the group has a 6-member formation, where Oomori Seiko serves as both the producer and "accomplice" member, accompanied by Nishii Marina, Aizome Karen, Kannagi Maro, dancer Yachia Riko, known as riko, and new member Shizume Nodoka. Just when the tour seemed to be doing well, Kannagi Maro was absent from the Kyuushuu area performances from August 7-9 due to "not feeling well," and they announced that they would officially be carrying on those shows as 5.
Although Kannagi would make her comeback at a Tokyo performance on August 11 for "Fan App Limited! Coming to see you all tour, Maro edition," in the early morning between August 12 and 13, a sound recording of Oomori yelling and demanding an explanation from Kannagi was uploaded online, causing an uproar on social media.
Around 8 PM on the 13th, a music video for the new song "Bokura no ongaku [Our music]" was uploaded to YouTube. Oomori wrote the song on August 13 and recorded it with Kannagi. The music video was filmed and edited on the same day the song was written, and while some saw it as ZOC's answer to the controversy, some also saw it as an attempt to put out the fire, which caused even more discussion online and caused the issue to become even bigger.
Then, remarks made by Yachia Riko regarding her attitude towards Shizume Nodoka also circulated on social media, further causing ZOC to become a hot topic online. The members made no statements of their own, and so the conversation began to grow larger still around them.
A day later was the tour stop at Sendai darwin. As there were no plans to stream the show online and people were wondering what sort of statement would be made in person, I hurried to the venue so as to provide as true a report as possible on the event. The result of it all was a show where the members told the fans their thoughts in their own voices. This is a report on the first of the two performances.
I'm glad ZOC has been able to keep going
About 6 minutes after the scheduled start, 2:06 PM, the ZOC overture began to play from the speakers and the 6 members emerged to a sea of shining lights held by the audience. The show began with "A INNOCENCE." Before the final chorus, I could see Oomori and Kannagi standing in the center of the stage exchanging glances and singing. Afterwards, the 6 members introduced themselves and moved into an MC segment.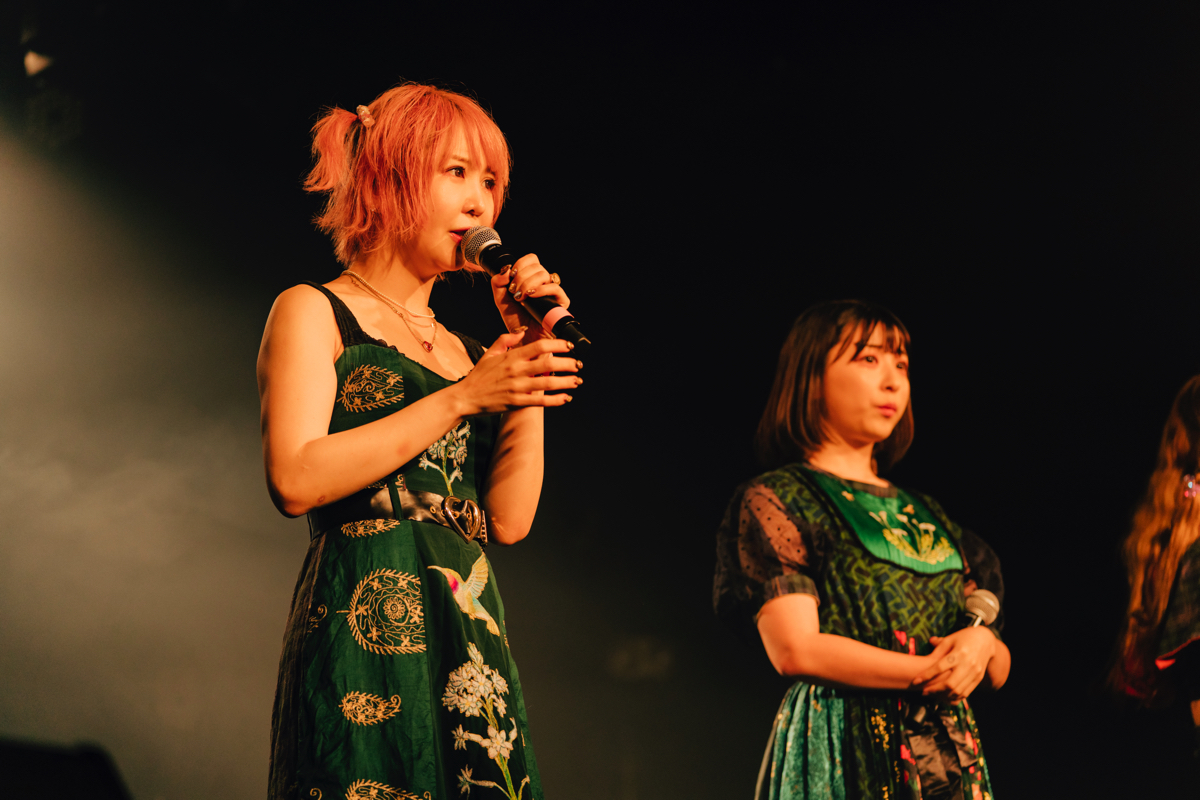 From left, Oomori Seiko, Kannagi Maro
Oomori Seiko:
"I want to sincerely apologize for the trouble and concern that's been happening online. I want to explain my side of things. First, the recording posted online is indeed my voice doing the yelling. I messed up in how I was getting my feelings across, and I really regret it. I want to apologize to Maro-chan. I'm also sorry for using this space to explain myself.
I have never once yelled at a member before this, and as is being talked about on the internet, my dousing someone with water, throwing a hat, throwing a bag, I have never done any of that before. With the other members, I have always intended to speak to them with as much good faith as possible, so this was the first time I have raised my voice like that.
As to why it came to that, a lot of things happened last year, and so I've kept myself busy to protect myself, but last month I had a few days where I wasn't working, which threw off my rhythm and I couldn't get myself in order. I was doing things separate from the group at that point, I was almost in isolation and had put the other members at a distance, so they tried to reach out to me.
Maro-chan wanted to help me, so she did reach out. I wanted to respond, but when I did, I did not communicate my feelings effectively. I have absolutely never used my position to order other people around, but it was because of my position that I raised my voice at her, and that's how it has gone as far as it has.
I realized on the spot that I had not put my feelings in order, so I spoke while thinking I should splash myself with water to cool my head. The recording of this was startling, and I think many people were shocked upon hearing it. I sincerely apologize."
Kannagi Maro:
"I'm really sorry for causing everyone to worry about me. I think there are some things Seiko-chan said that she's taking blame for, but what first led to that conversation was not what was said in my tweets or something said on LINE, rather for the sake of communication with her, to talk with her about the work I wanted to do in ZOC.
I recorded the conversation to keep a record of it. Seiko-chan normally never spoke to me that way, and I was so surprised that I sent the recording to other members and former members. I'm really sorry.
After I sent off the recording, I spoke to the staff and Seiko-chan again to reconcile. Between the timing of me wanting to get to work with ZOC and my carelessness in sending the recording out, the recording was leaked by someone. Because of my thoughtlessness, I caused issues and concern for a lot of people, and for that I am sorry.
From now on, I of course want to have better communication with Seiko-chan and all the other members, and I want to continue to do my best as Kannagi Maro of ZOC without causing the fans to worry and to get people to focus on the music. I truly apologize for everything. Thank you for your continued support."
Riko also made a statement during the MC.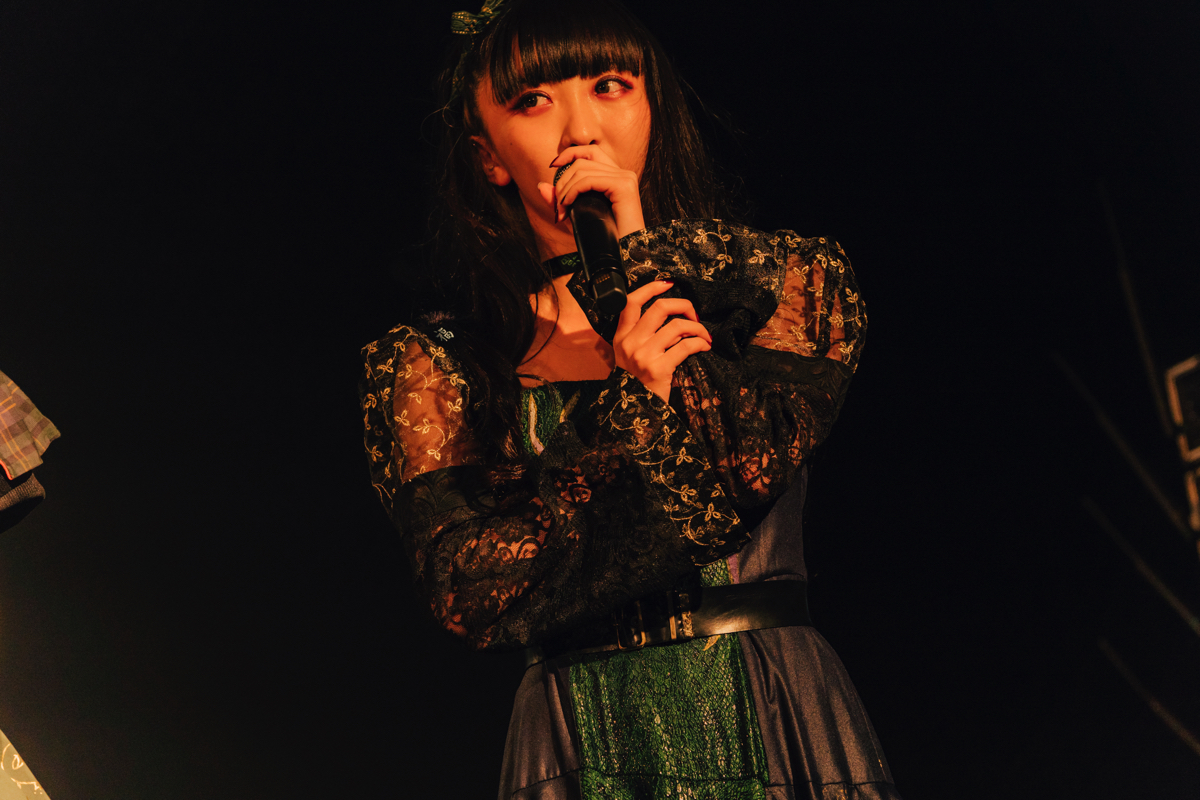 Yachia Riko
Yachia Riko:
"I am also very sorry for the concern and trouble I caused. Nodoka-chan sent me a message on LINE yesterday and we apologized to each other and reconciled, but I behaved very immaturely, and I did some things to her that are inexcusable. I'm very sorry.
Since I became an idol, there have been times when I emotionally strain myself, and I've been doing what I can do while admiring how everyone else does things that work for them, but there were some things I should have shown more self-control over, and the source of all of it was that I couldn't control my mental state. I'm the one at fault for everything. I sincerely apologize to you all for losing your trust and making you upset. I will definitely take care so that nothing like this happens again, and I will continue to work hard so I hope you will support me. I am sorry."
Nodoka spoke after.
Shizume Nodoka:
"I am sorry for letting the fans down. I think I was really lacking self-awareness, because it's true, how the members thought of me. After I saw what was written on Twitter, Riko-chan reached out to me and apologized. Ever since I became a public persona, I realized that I can't do all the things that normal people do, so I want to be more conscious of how I carry myself on stage and elsewhere. I am sorry for causing you all to worry."
Oomori Seiko:
"She was so inexperienced that nearly everything was new to her, but there are things that need to be done as a representative of ZOC, things that need to be done as a one of several members, and things that need to be done as a person. For one individual to do all of this, there need to be three separate personas, but we can't show negativity to the other members or to the fans, no matter how hard of a time we might be having finding that balance. I want us to be more diligent about this. I want to work as hard as I can on the things we can do as ZOC.
There are many times when I can't express myself well or when I overdo things, and I've lived my life keeping other people at a distance, but Maro broke me out of that shell, and I'm really reassured by the fact that we have these members here now doing what they can. Let's keep working together."
When Oomori bowed her head after speaking, Kannagi added, "Thank you for your support."
Kannagi Maro:
"I am very sorry that so much time has passed without me saying anything and leaving things in disarray. I wanted to speak to the people who were coming to see me first. But now that I see all of your faces like this, I'm glad I was able to see you, and I hope that ZOC can keep going. If possible, I don't want anyone to say it would be better for me to quit, and I want to work hard and have confidence so that more people will support us. It might not be possible for you to feel that way so quickly, but I will try to get my songs out straight to you. I really am trying, so please support me."
After each of them tearfully expressed their feelings, Nishii said, "I have something to say, too, is that all right? It all started with that Dropbox file, but people are suggesting that I was the one who uploaded it. Like, oh, that was definitely Nishii. But since I'm not that polite to anyone, I think it might have ben Karen," which elicited laughter, but despite this, they voiced that neither Nishii nor Aizome uploaded the audio.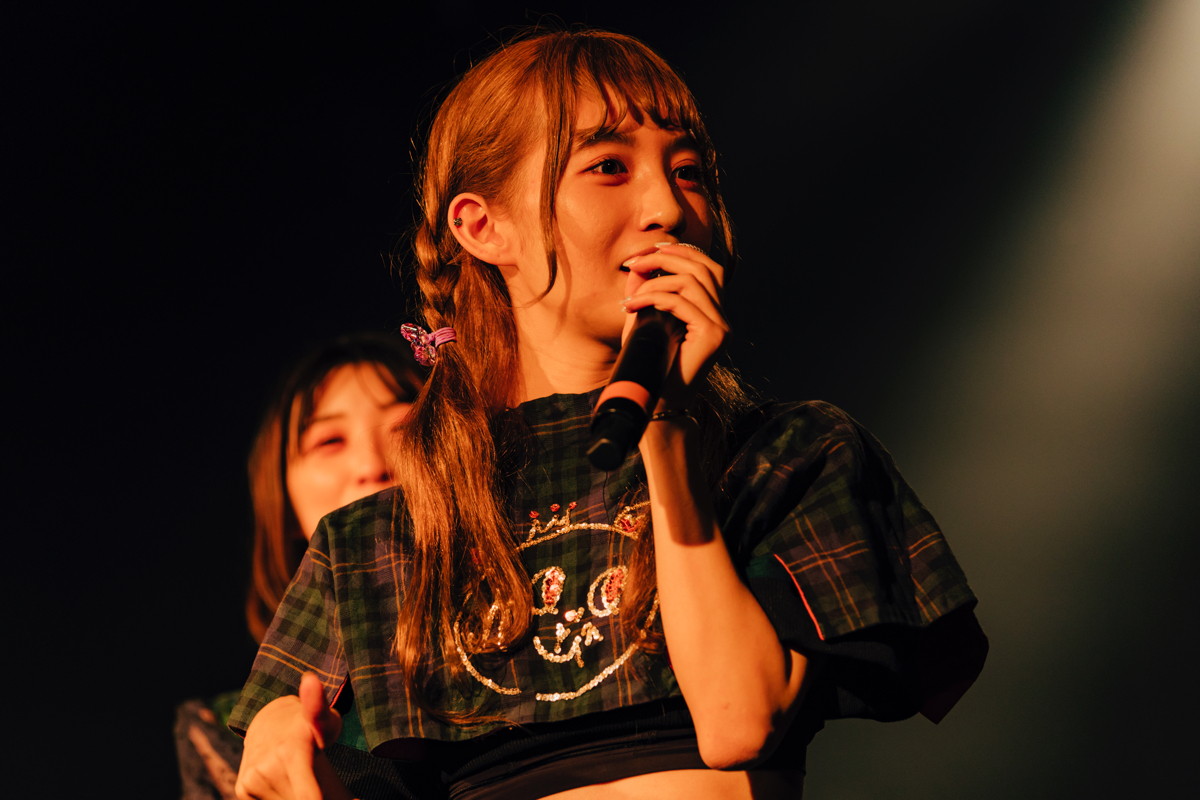 Nishii Marina
Oomori Seiko:
"I'm actually not there yet, I'm not a person who can live normally, so I've never ever been able to tell the other members that they're doing something wrong. I couldn't tell them to do something I can't do myself, like putting things in order. But I should have. I hope you will let me keep working as an idol. Thank you for your continued support."
They all bowed, and then Oomori and Kannagi started "IDOL SONG" in unison. Kannagi kicked things off with, "Wake up early, have a kiss," in "Chuupuri," and the 6 of them got into a heart formation at the end.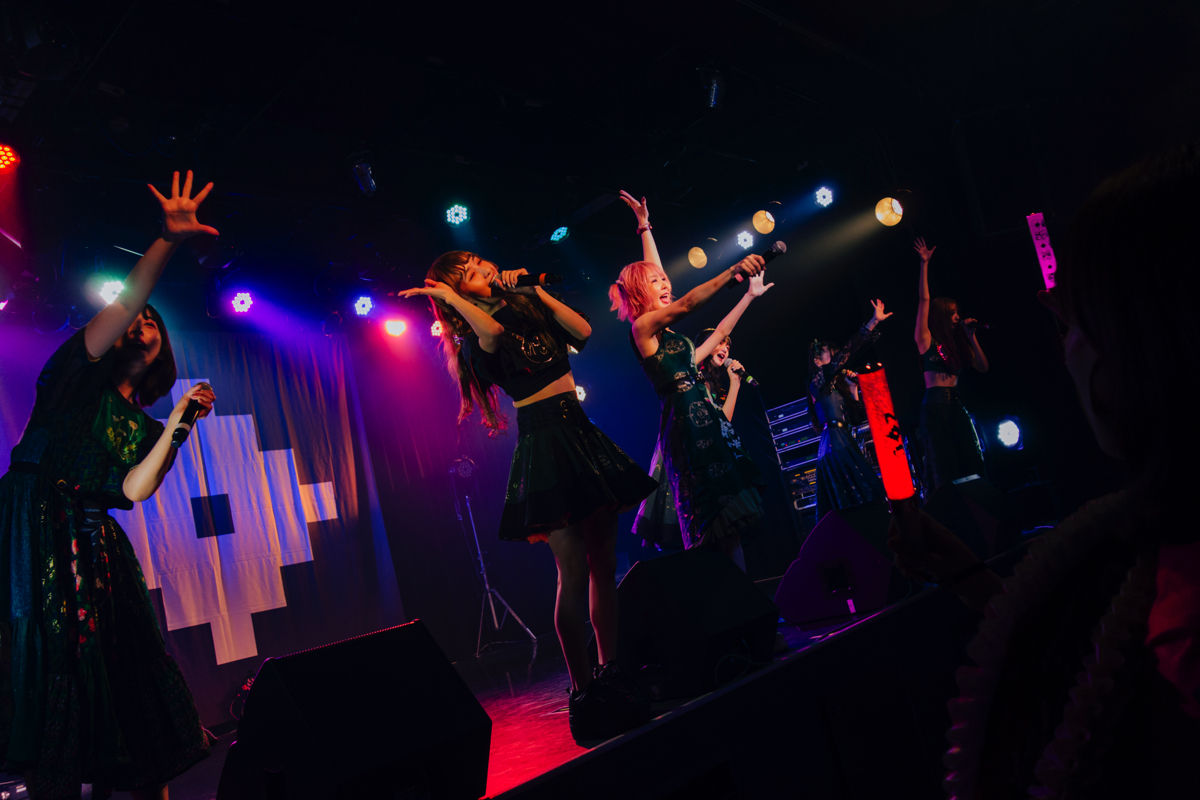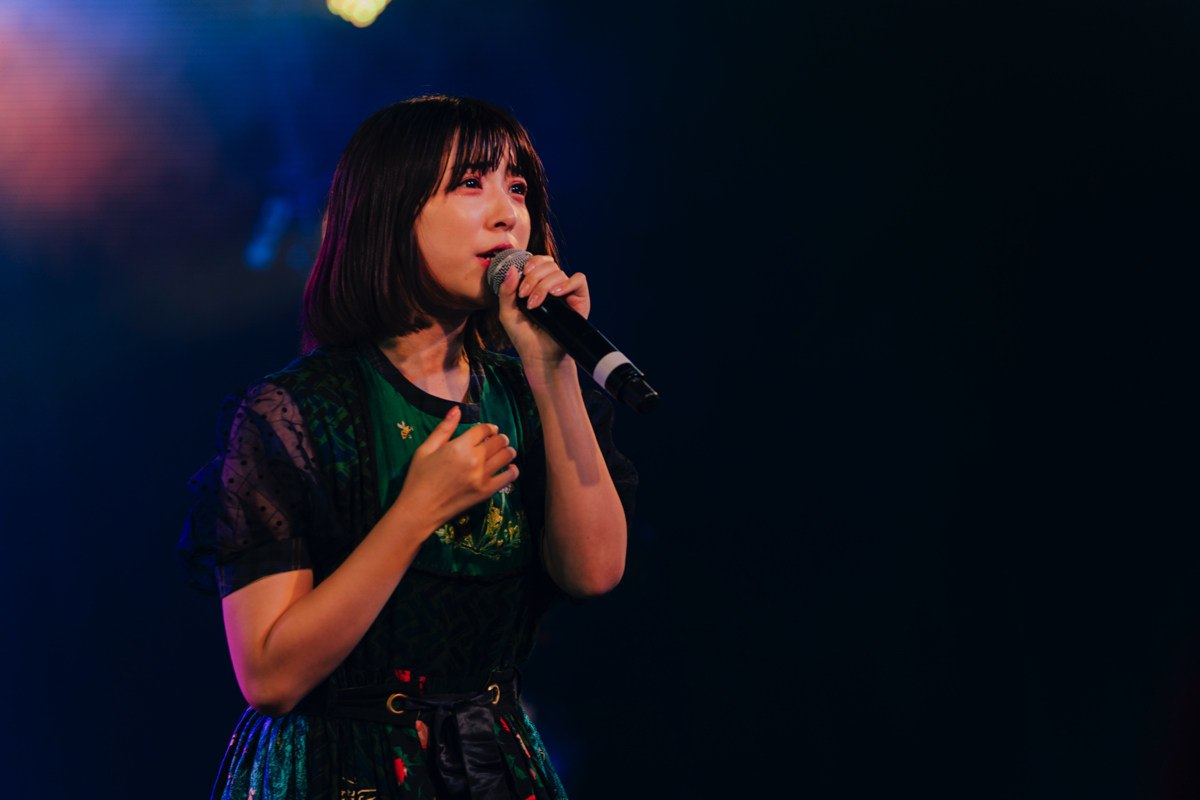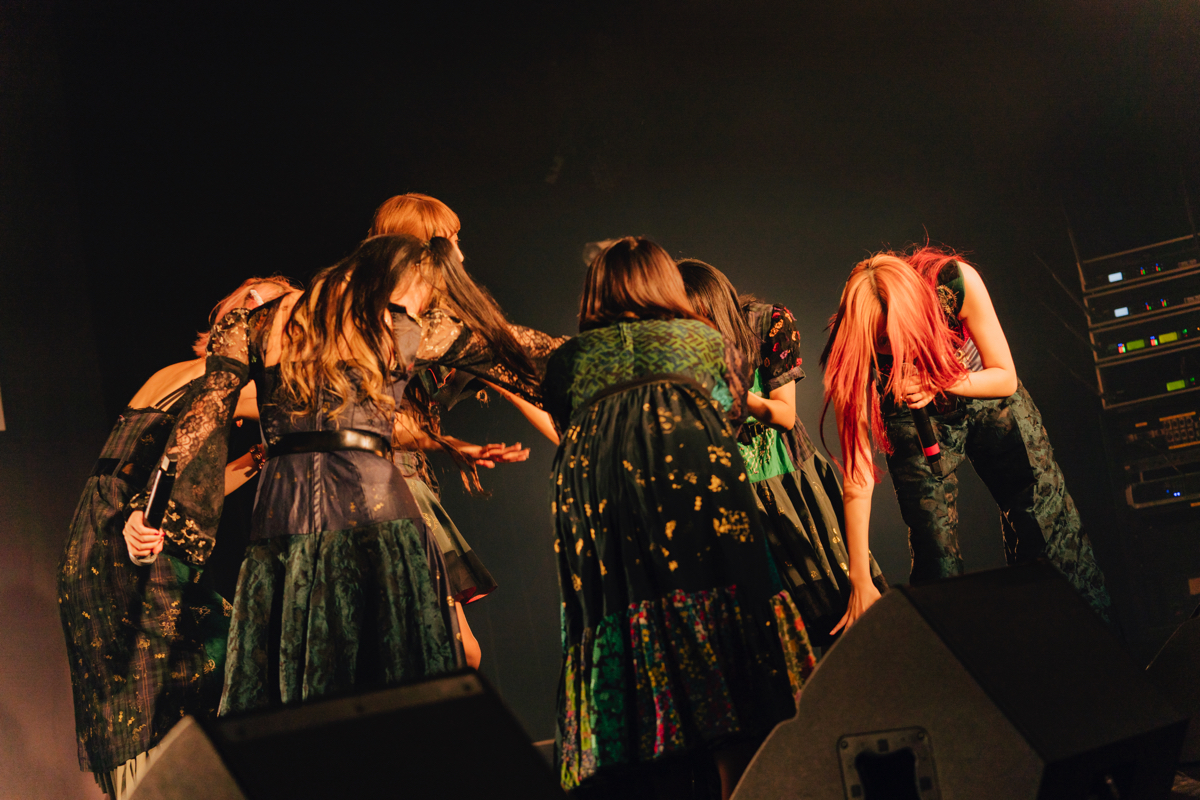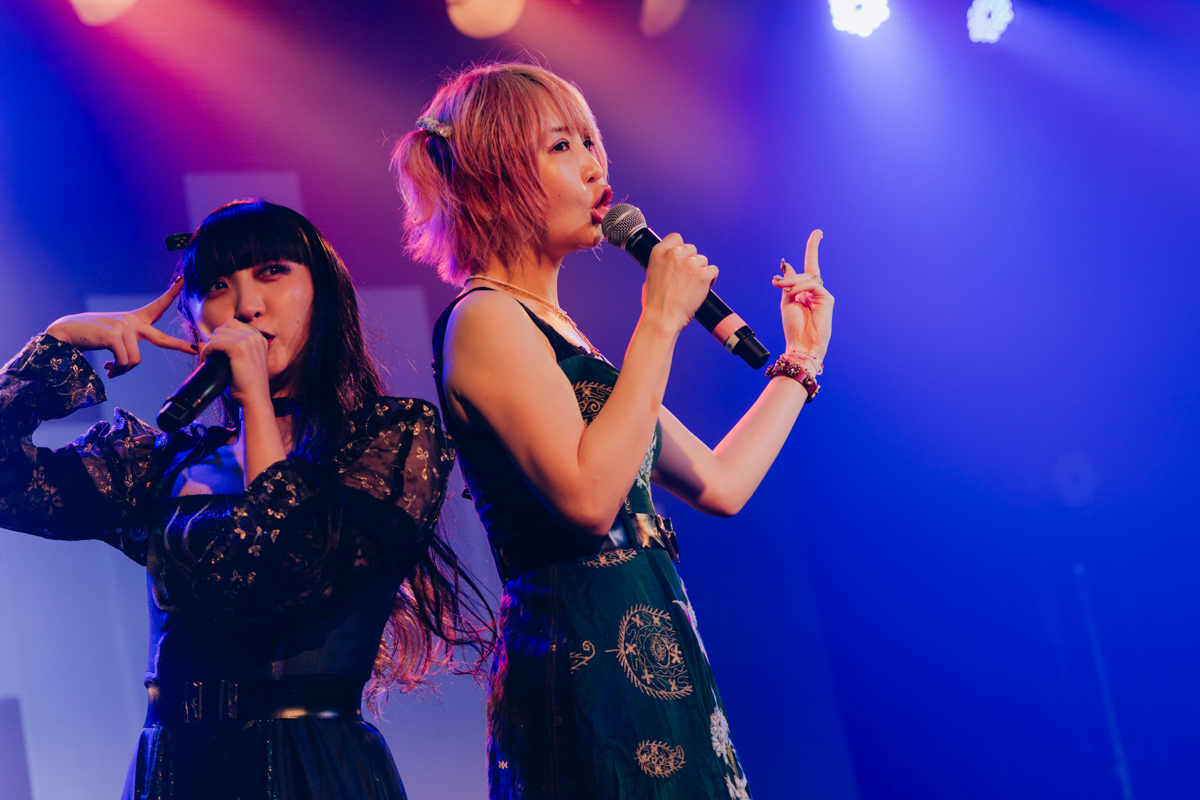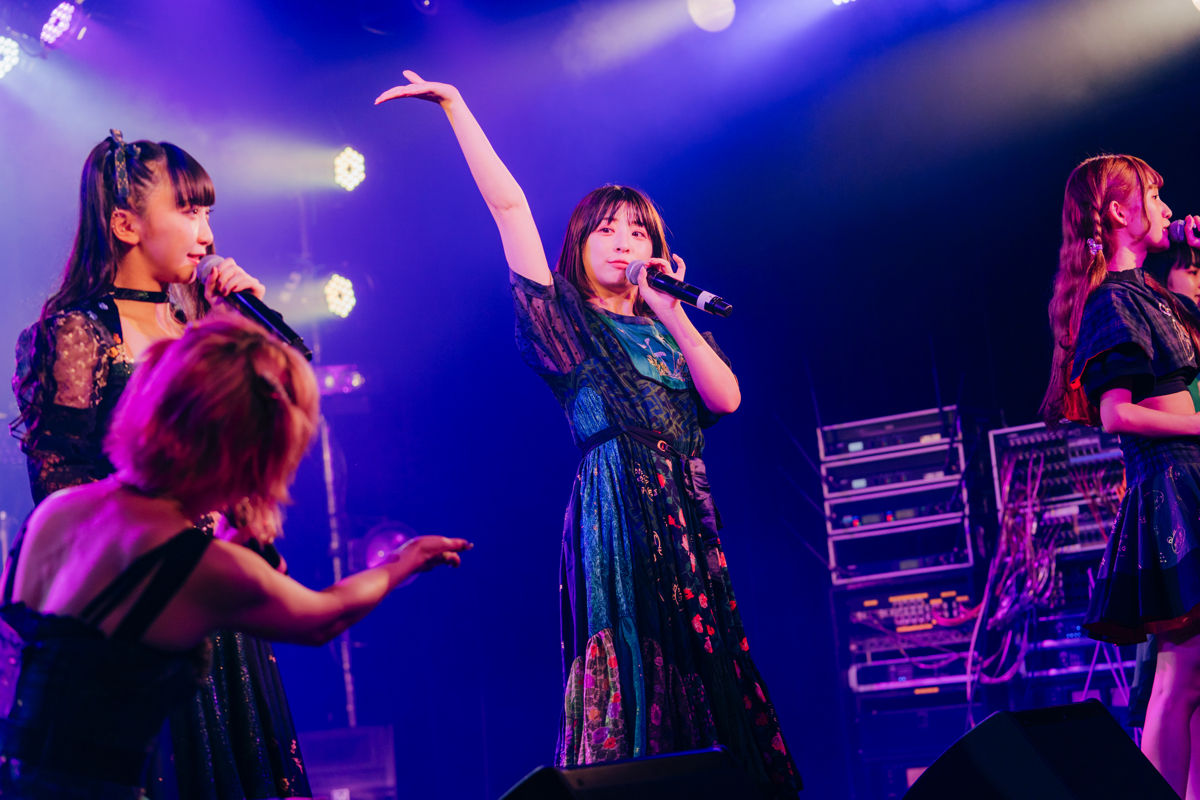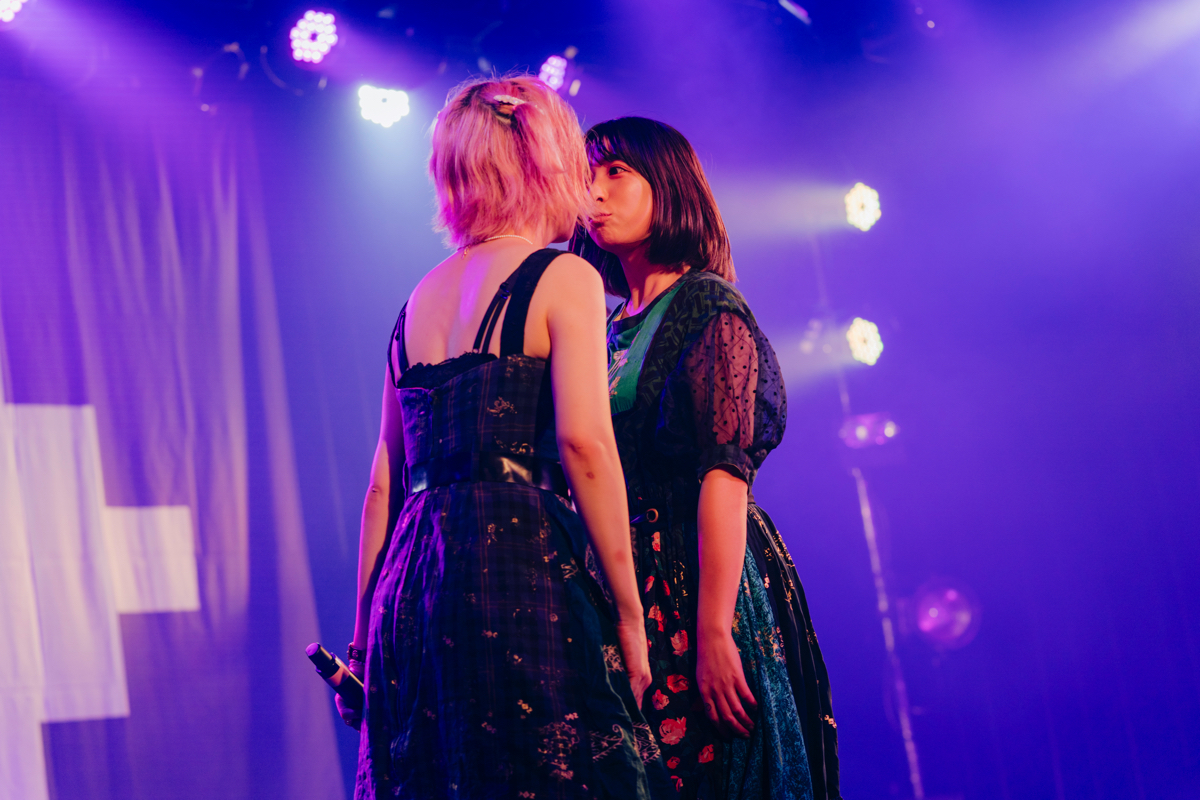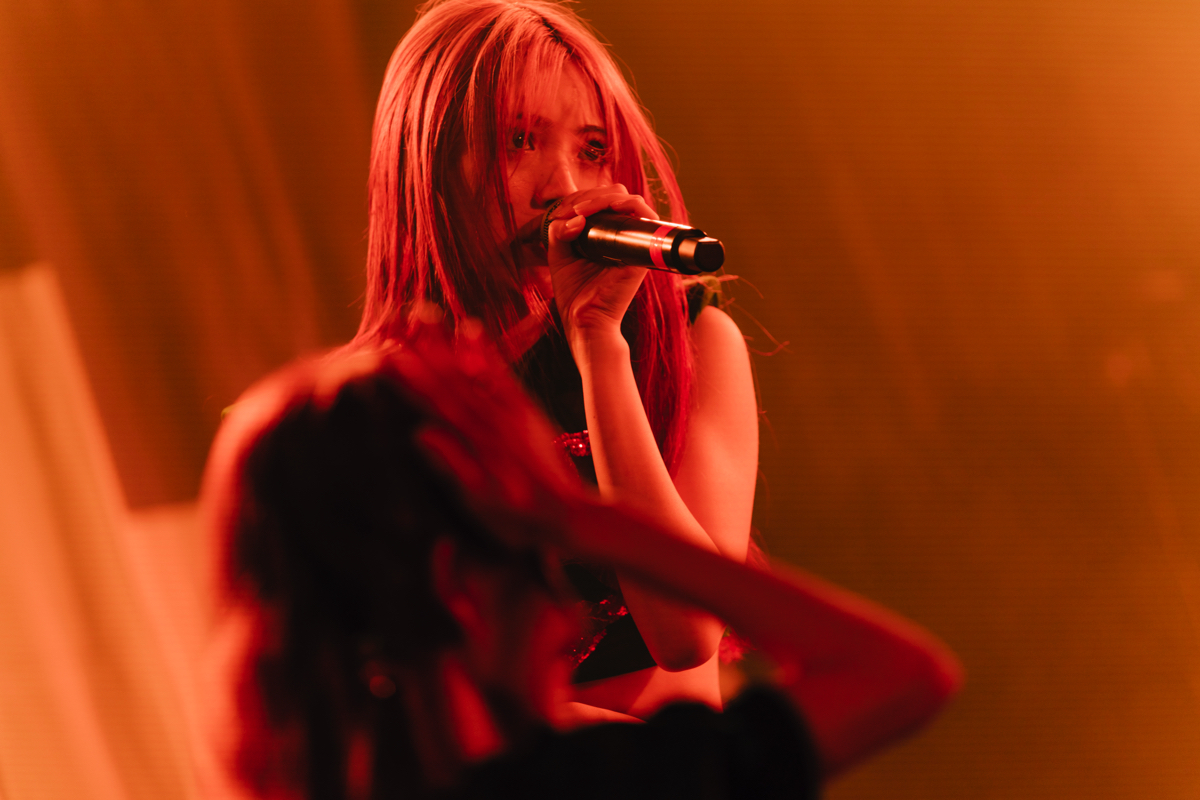 Aizome Karen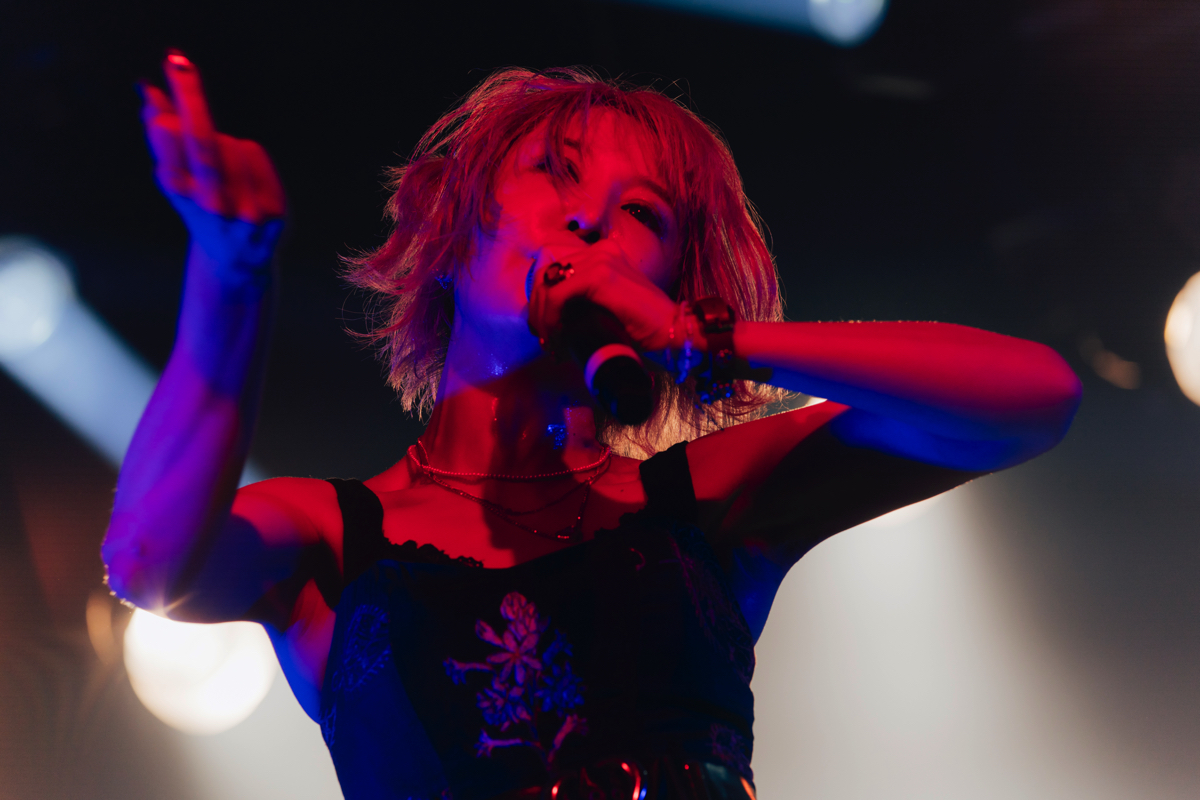 They then gave a vigorous performance of, "GIRL'S GIRL," "CO LO s NA," and "Gankyuu ni GO!" Aizome Karen and Nishii then did a duet performance of "family name."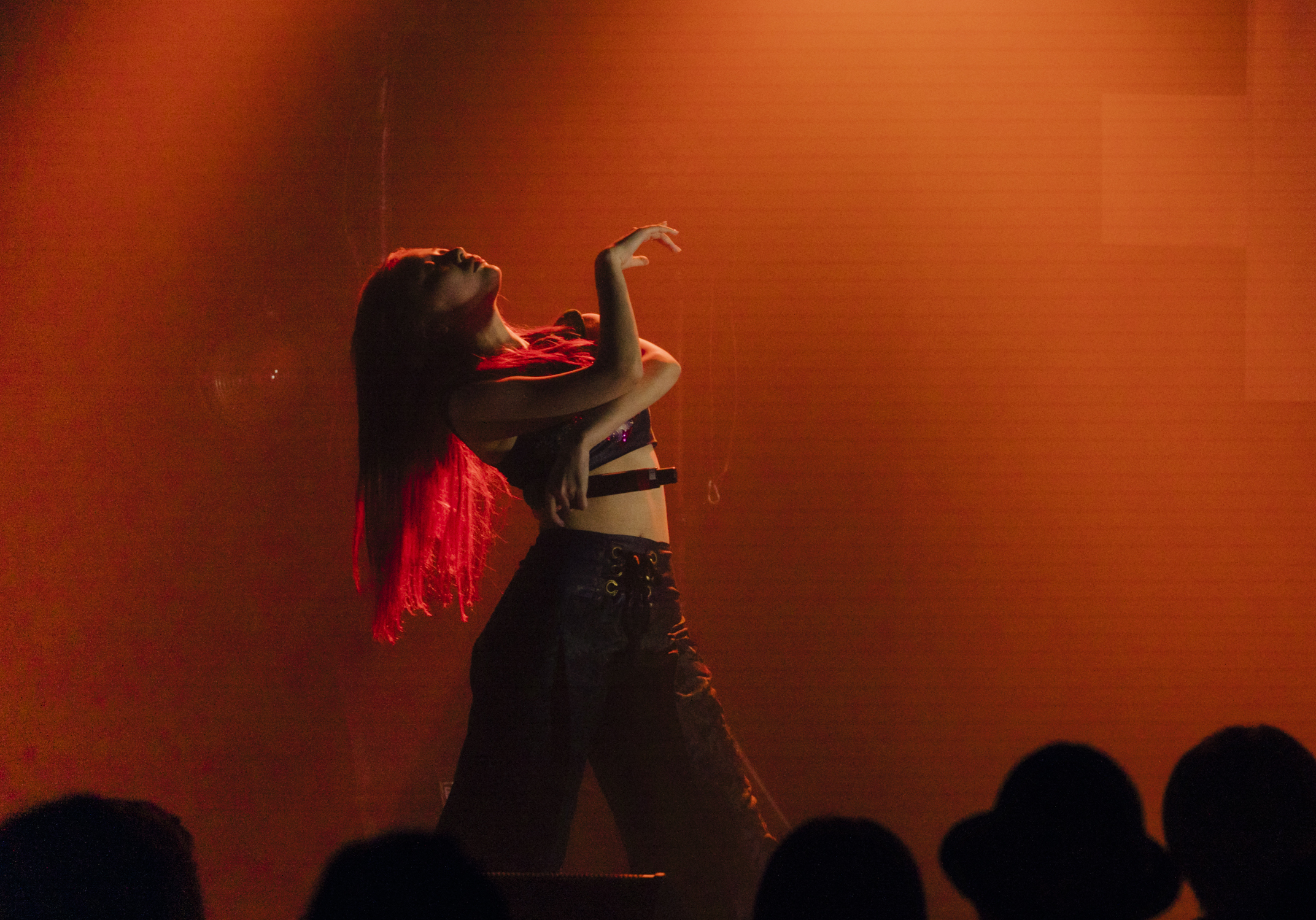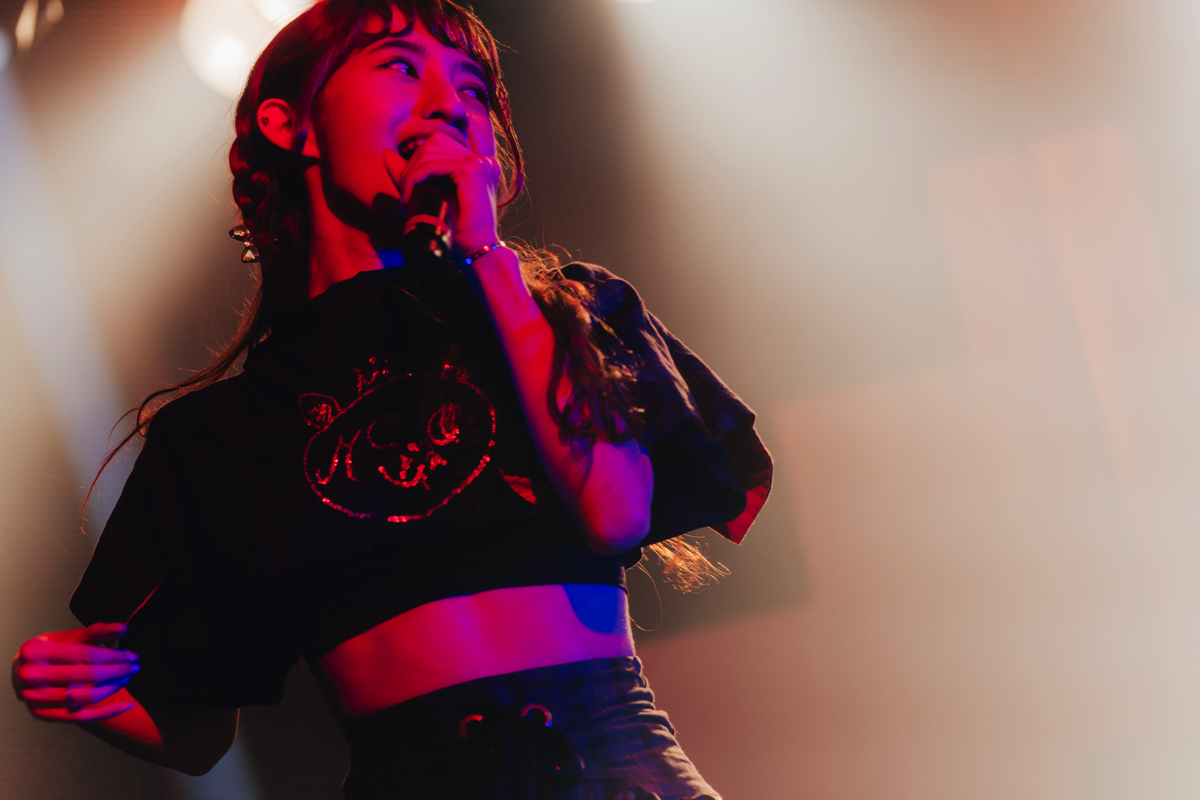 The two of them left the stage after announcing that it was time for new songs, and Nodoka performed her solo song, "Fake baby," for the first time. She innocently sang and danced to the punk-sounding song featuring running garage-band drum sounds.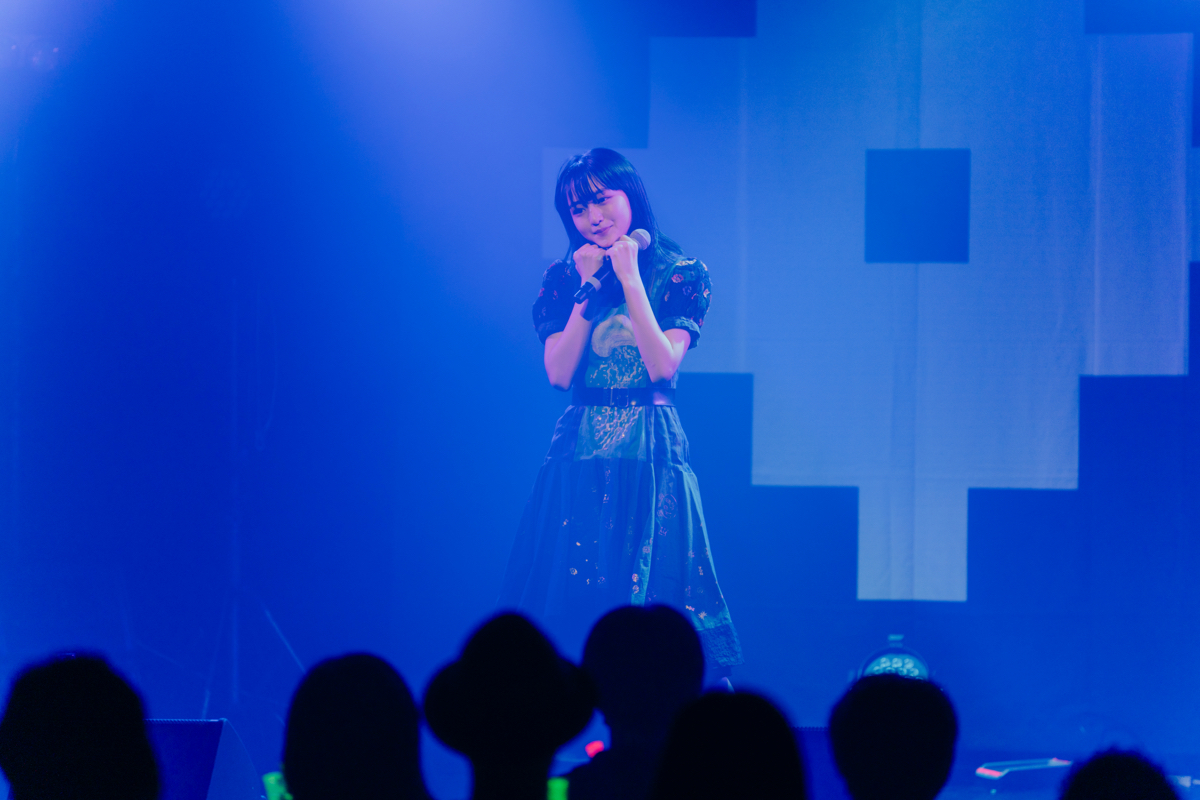 Shizume Nodoka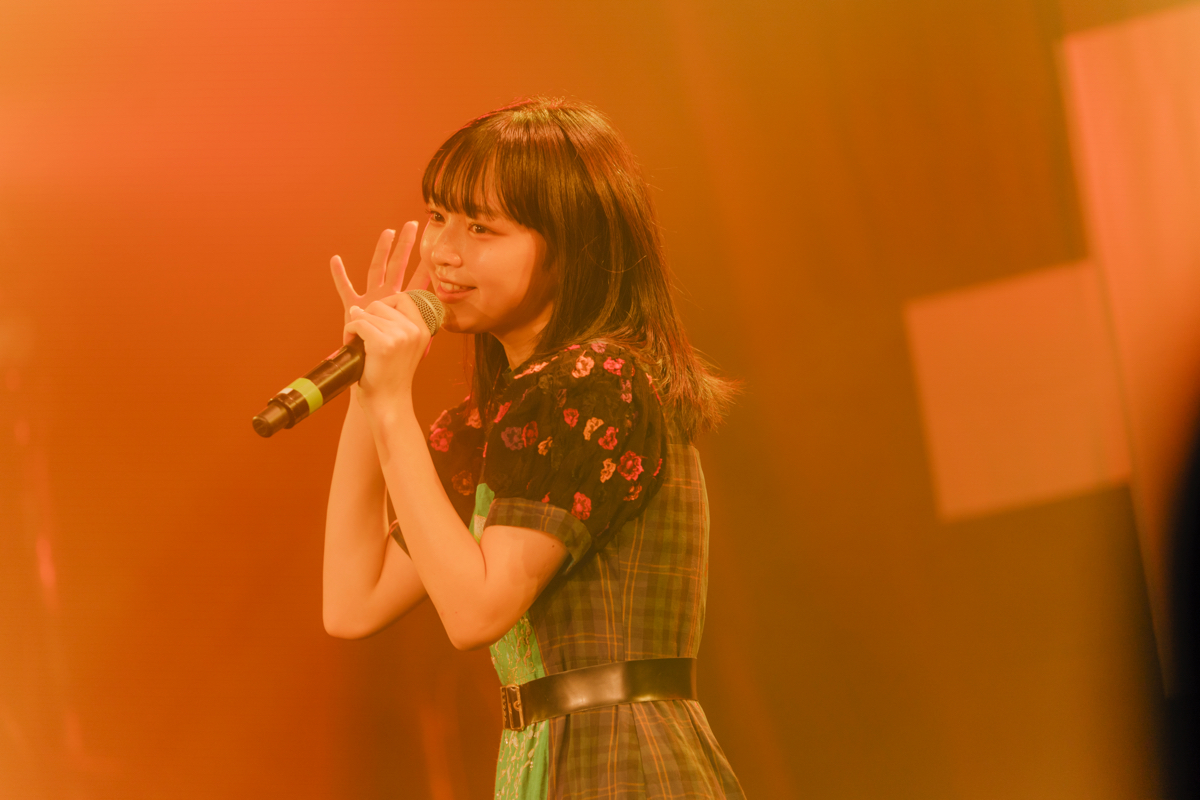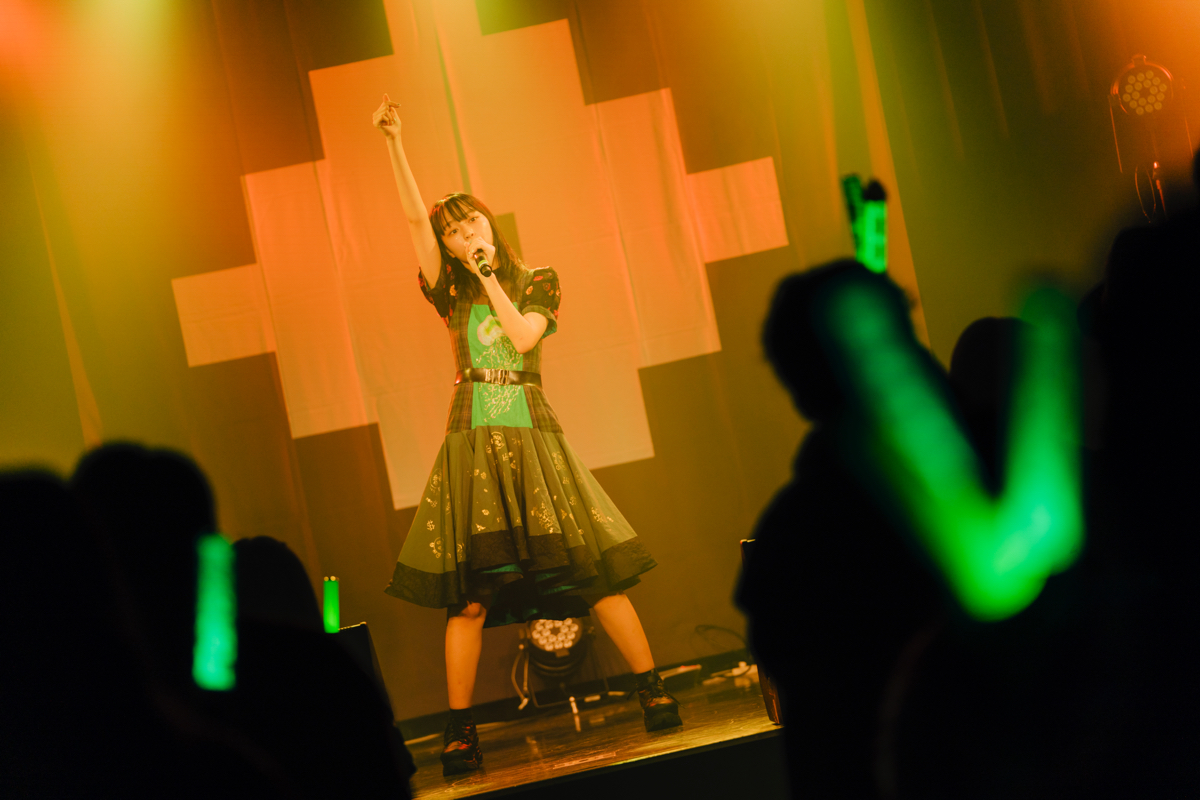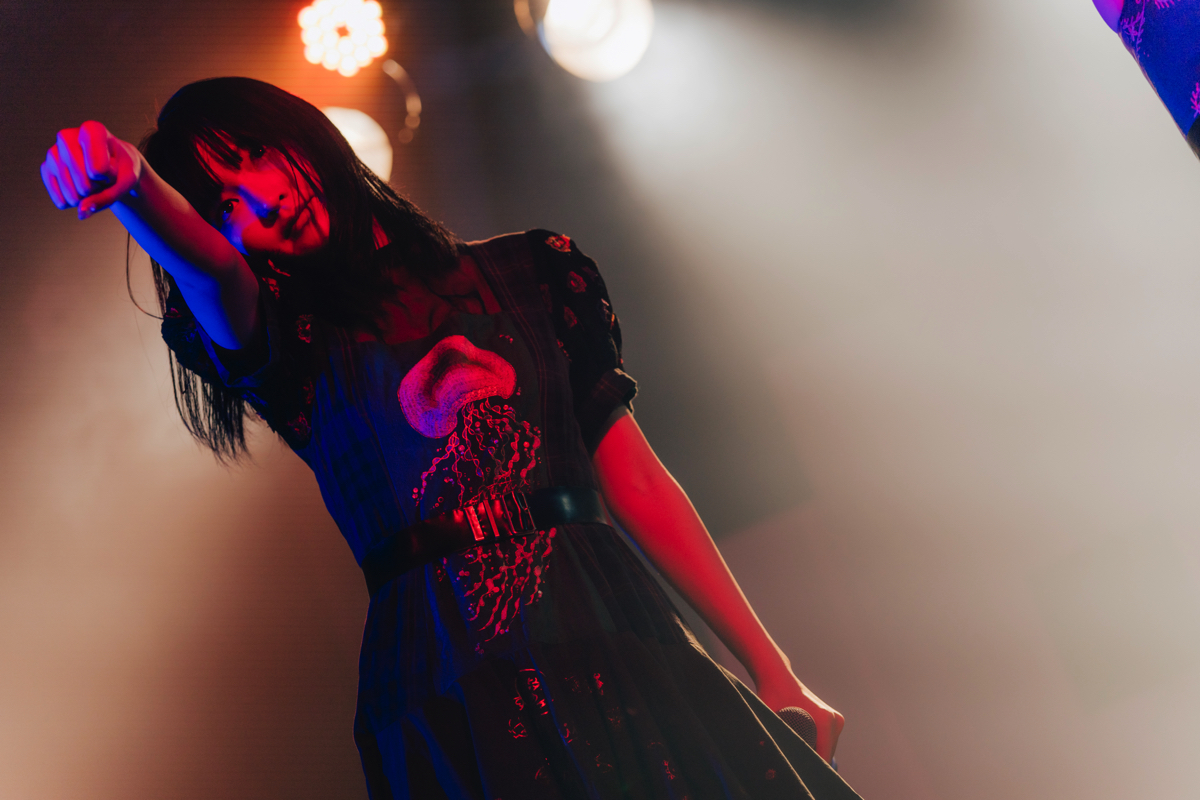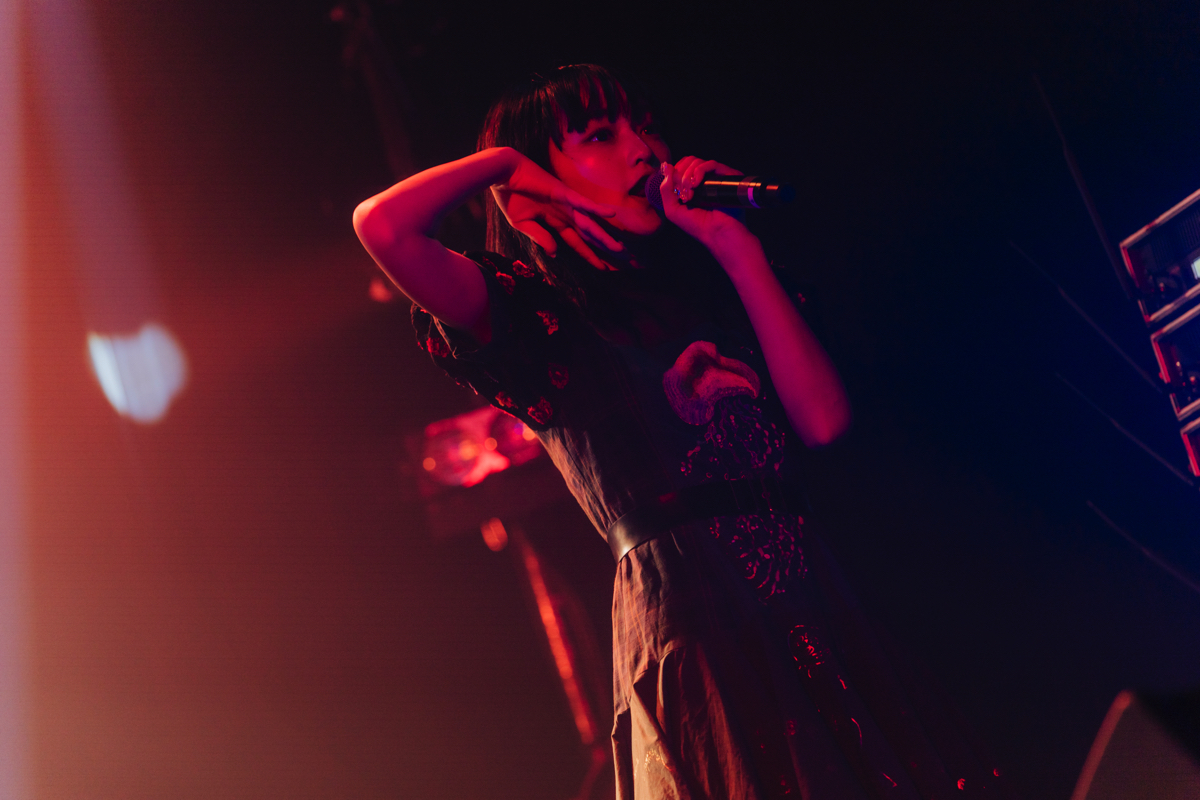 Riko then appeared on stage under red lights. It was a complete change in mood from the bewitching intro to the hard drum sounds in the first performance of her heavy metal guitar riff-filled new song, "RikoRiko☆Kuromajutsu." The cute melody of the chorus made it a very contrastive song.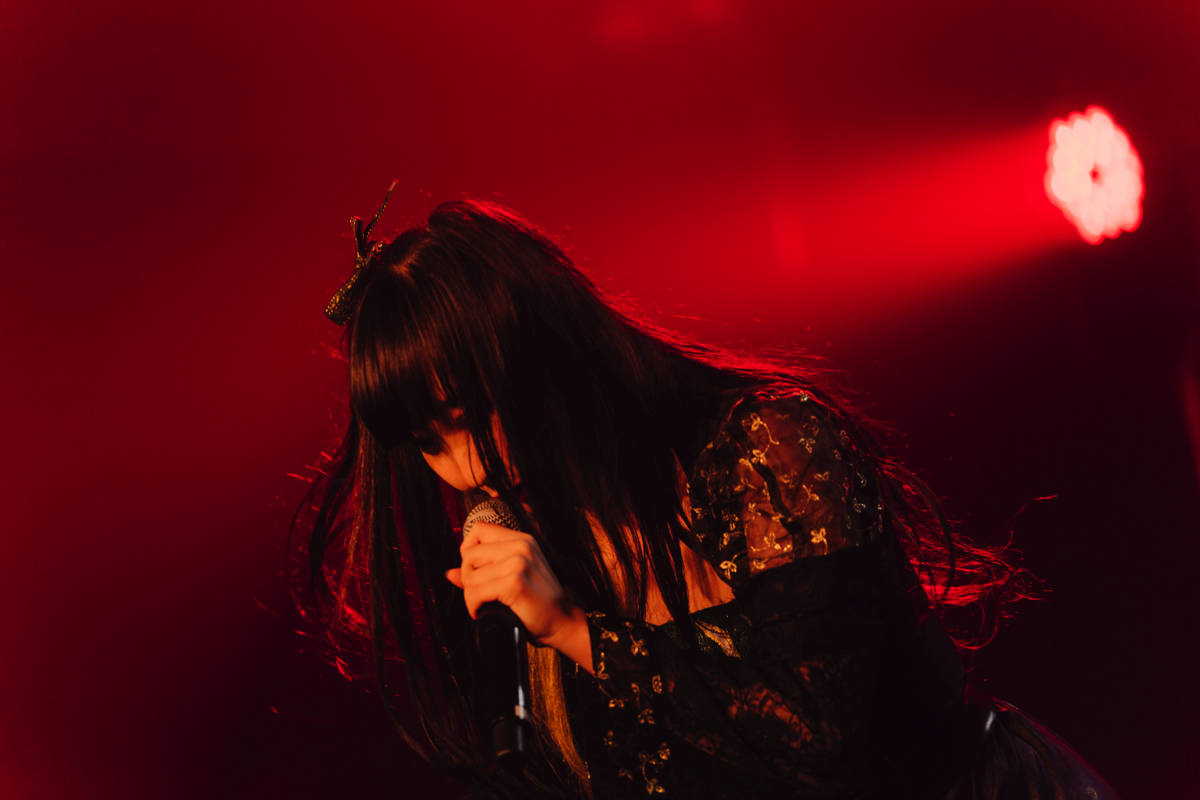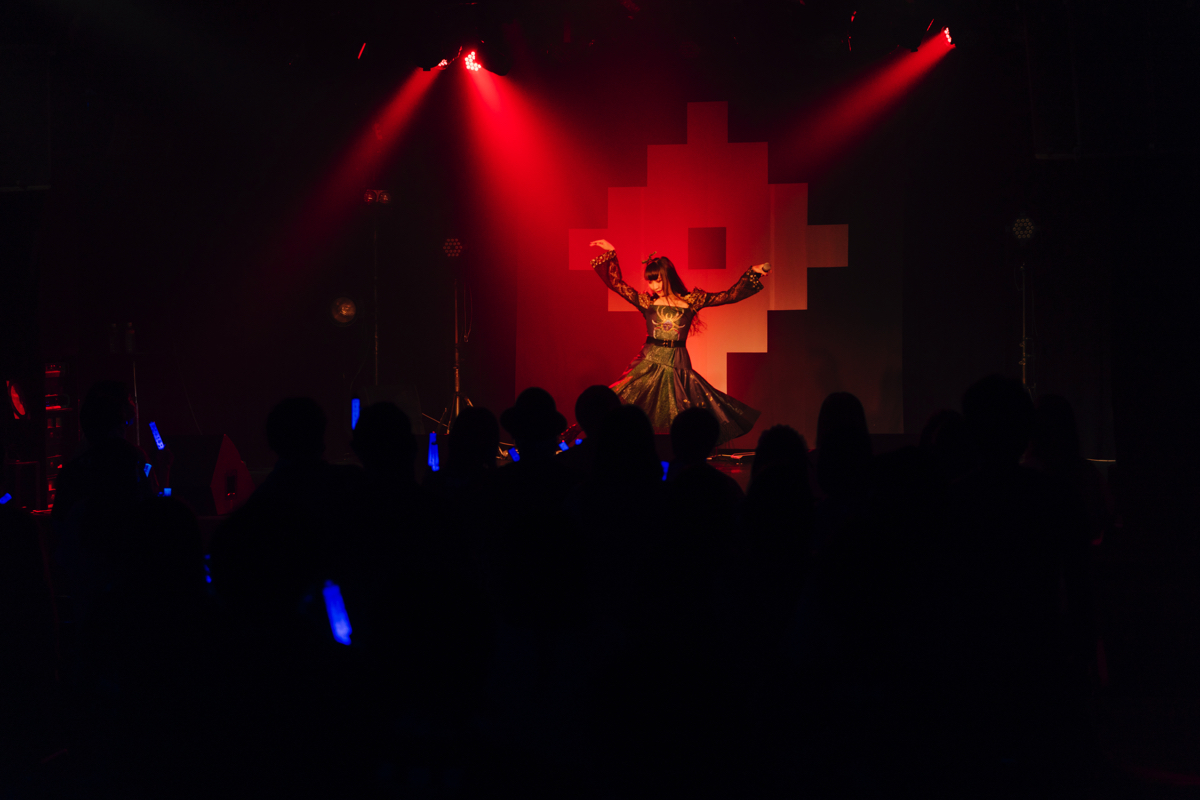 Then, Kannagi and Oomori came onstage. They sang the song they had just released yesterday, "Bokura no ongaku," to a simple acoustic guitar arrangement. They locked eyes while singing their hearts out during the last chorus, which reverberated throughout the venue.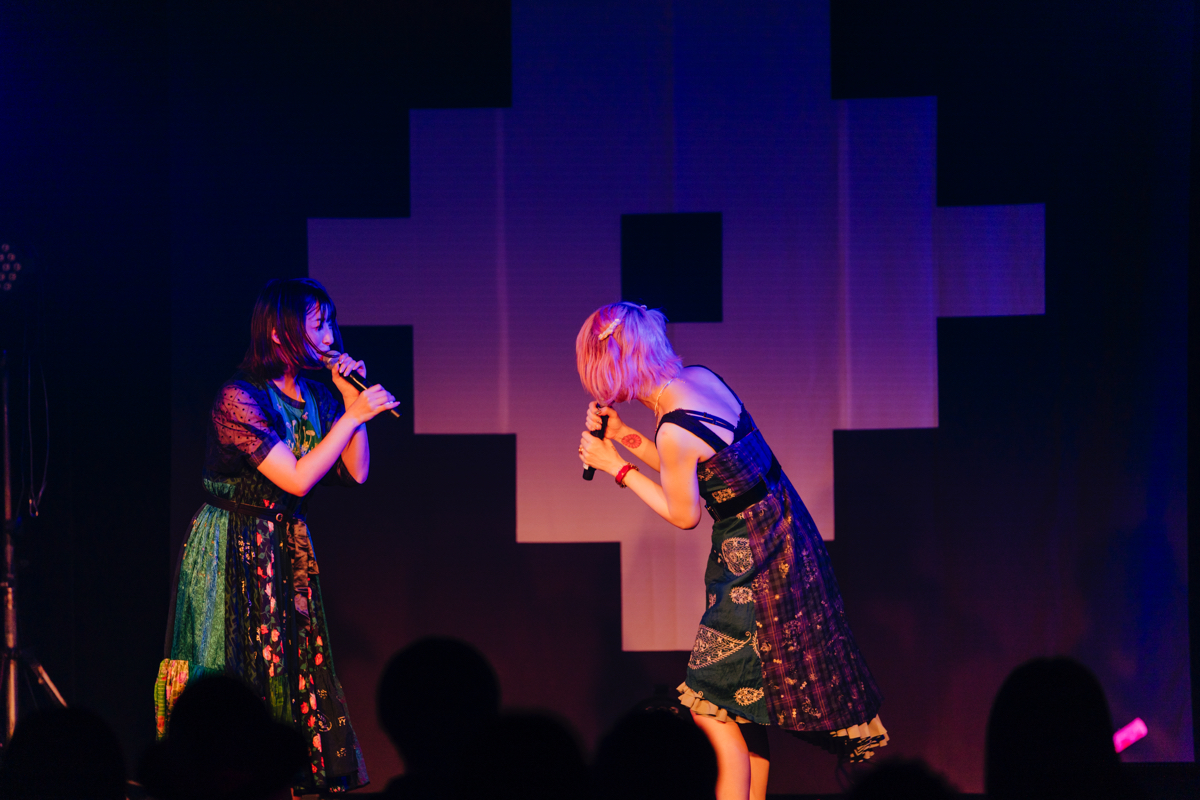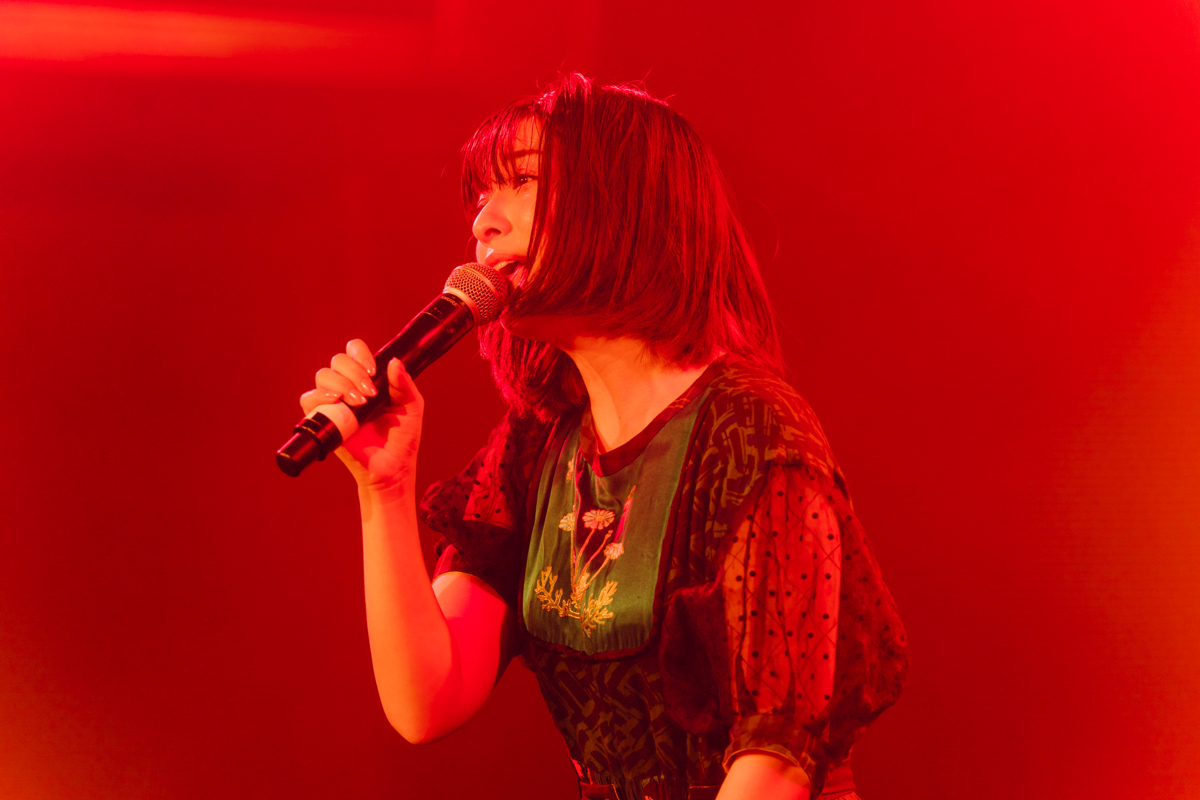 In the aftermath, all 6 members lined up on stage again to move into "DON'T TRUST TEENAGER." I could see Kannagi run up to Oomori in the middle of the song for a kiss. Riko's dance shined among the members in "14sai," then came the hard electro sound of "Danshari kareshi," to the spicy R&B of "LiBiDo FUSION." When Oomori yelled, "Last spurt!" they performed, "Nou♡Kou♡Se♡Shoku." The audience urged the members on with their fans and lights.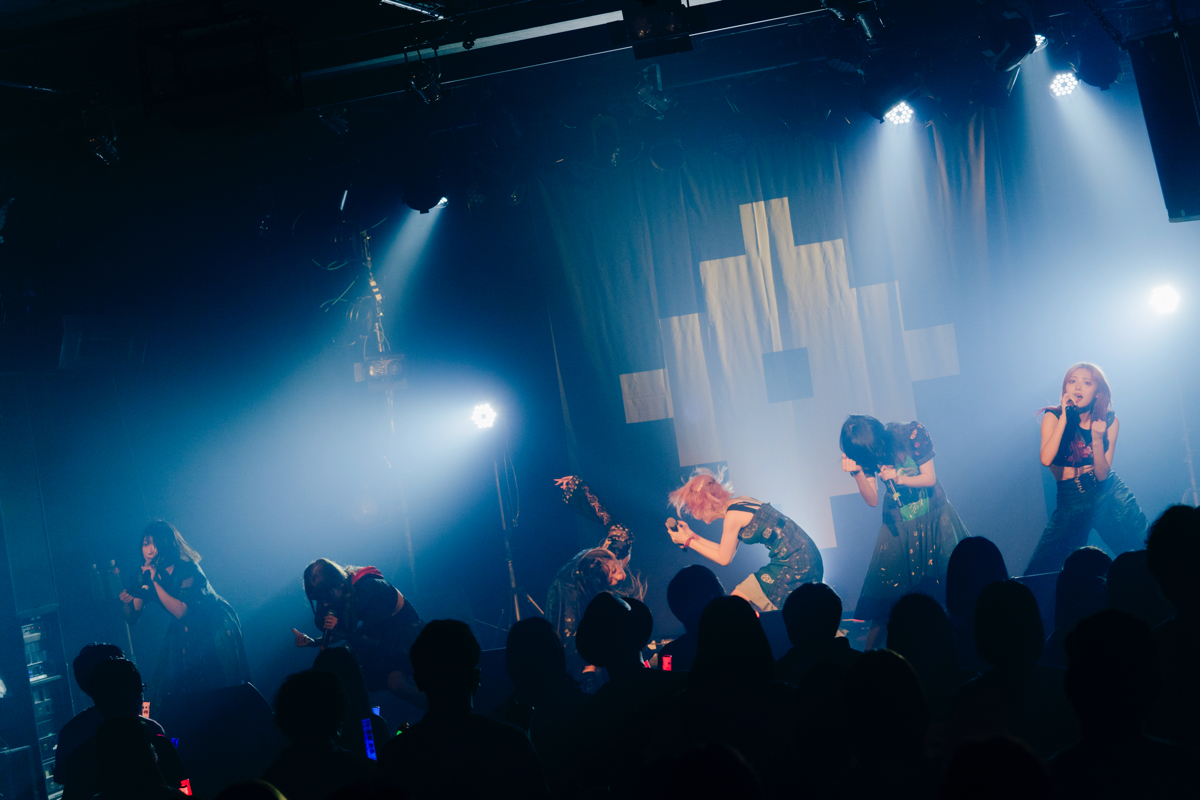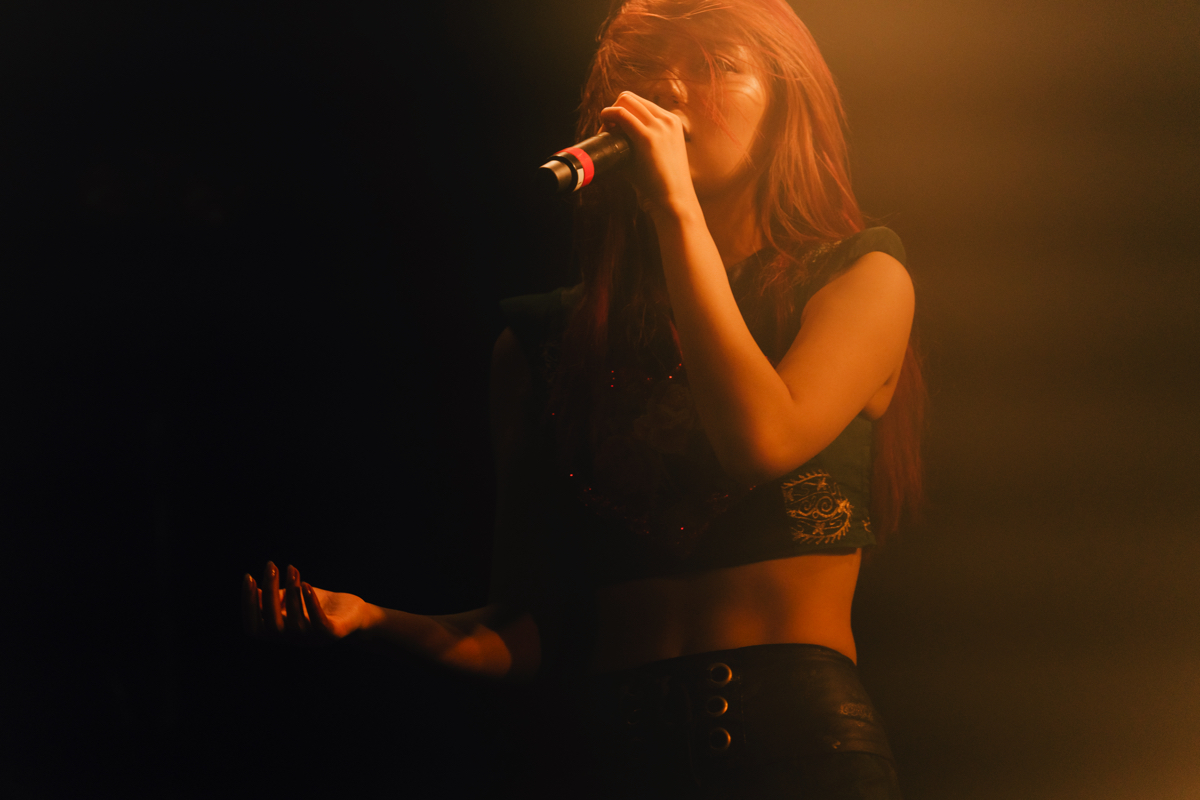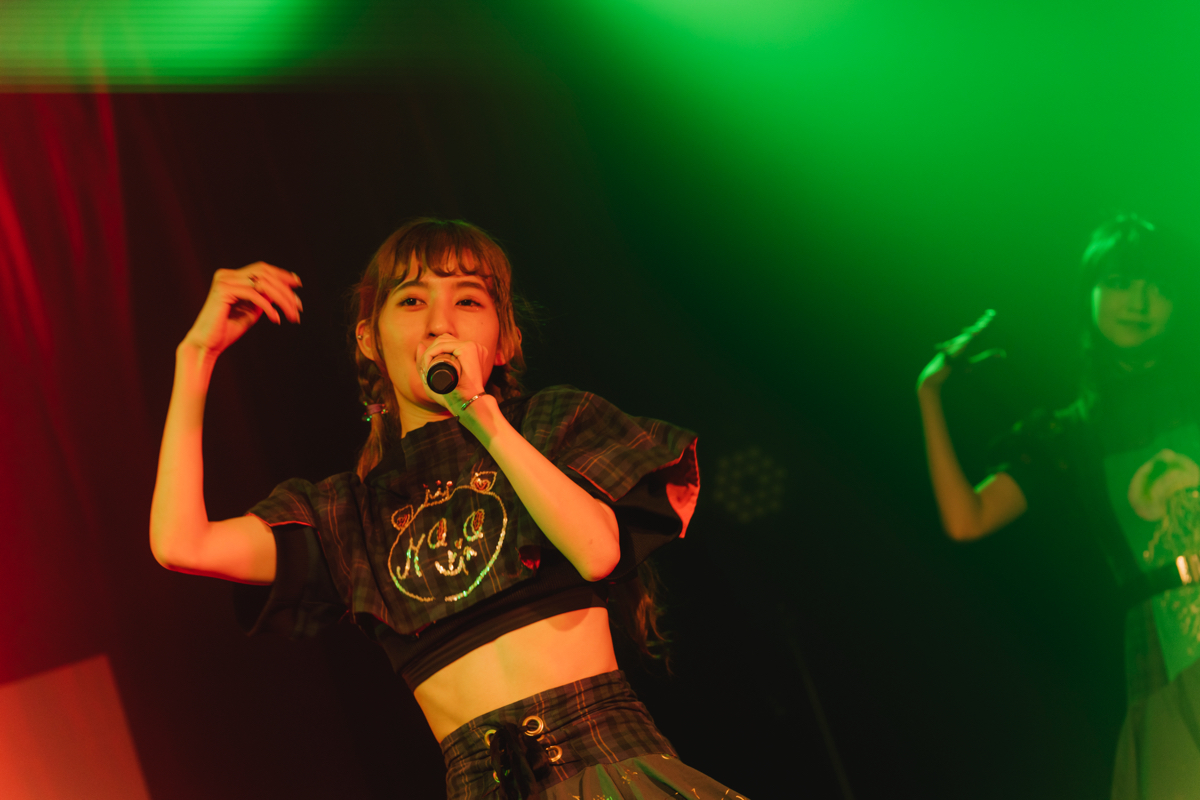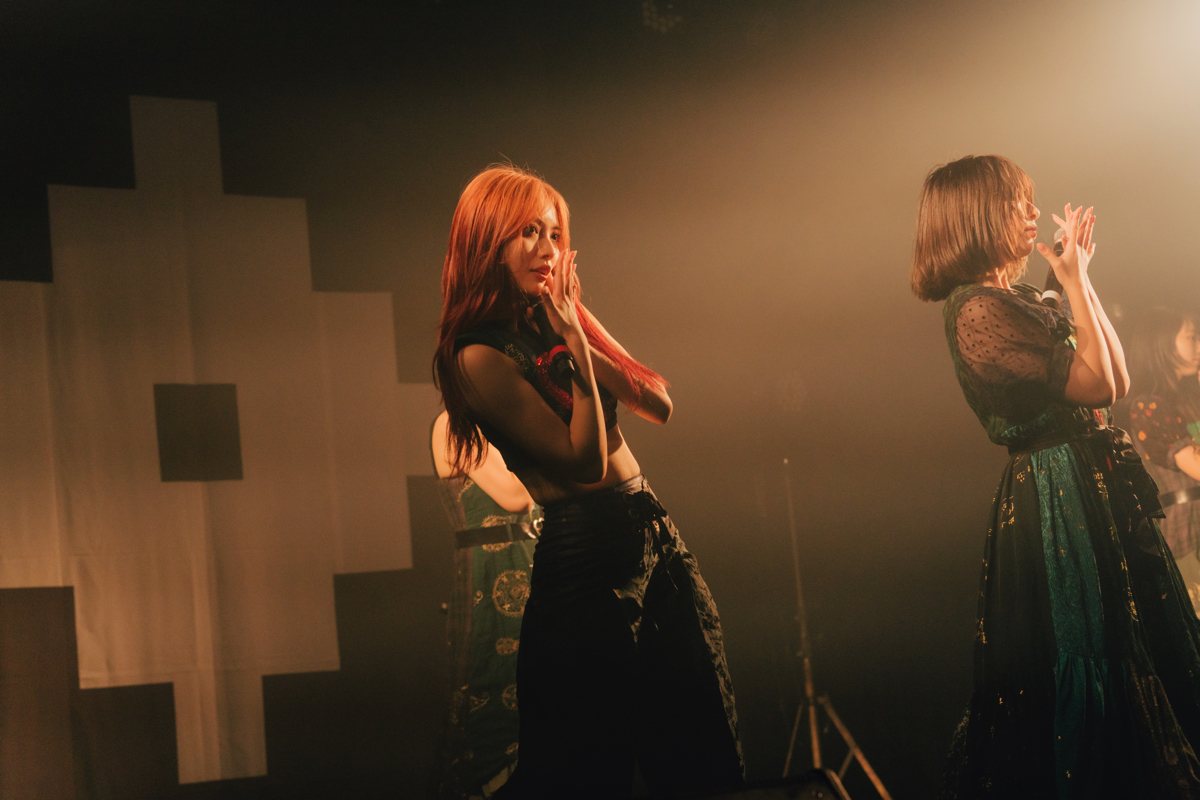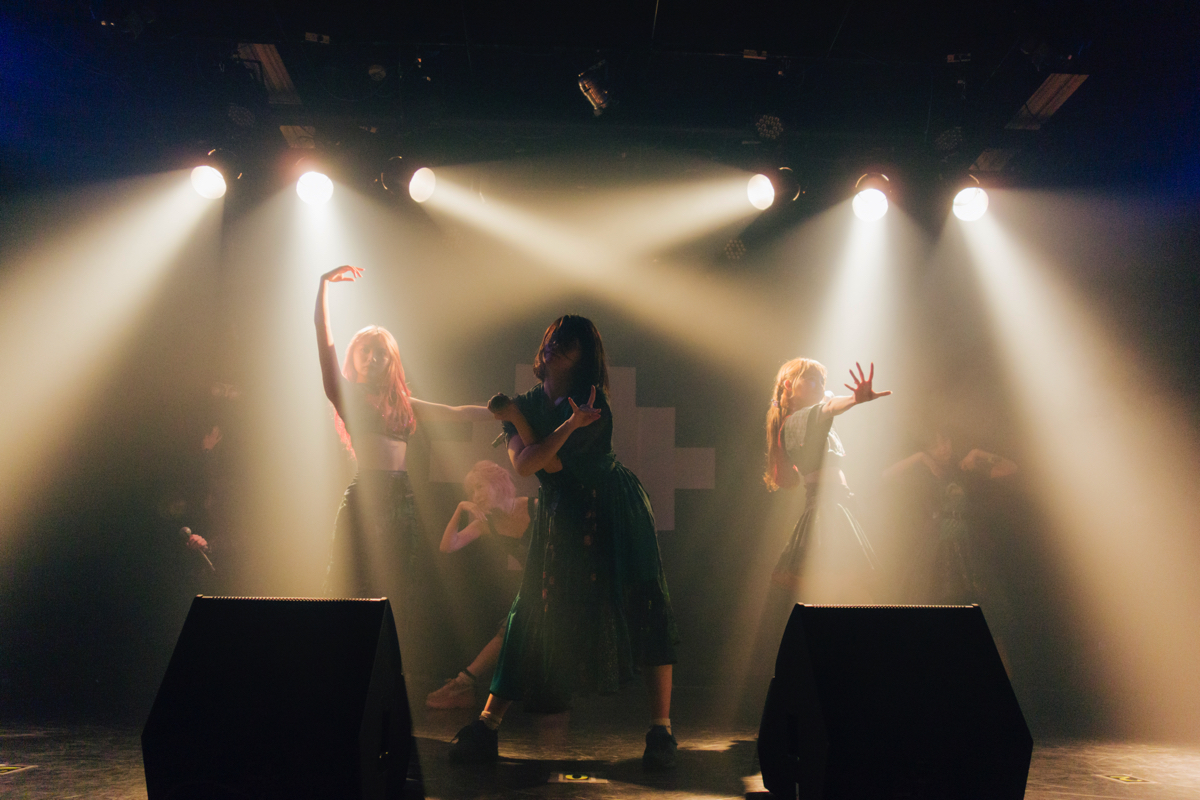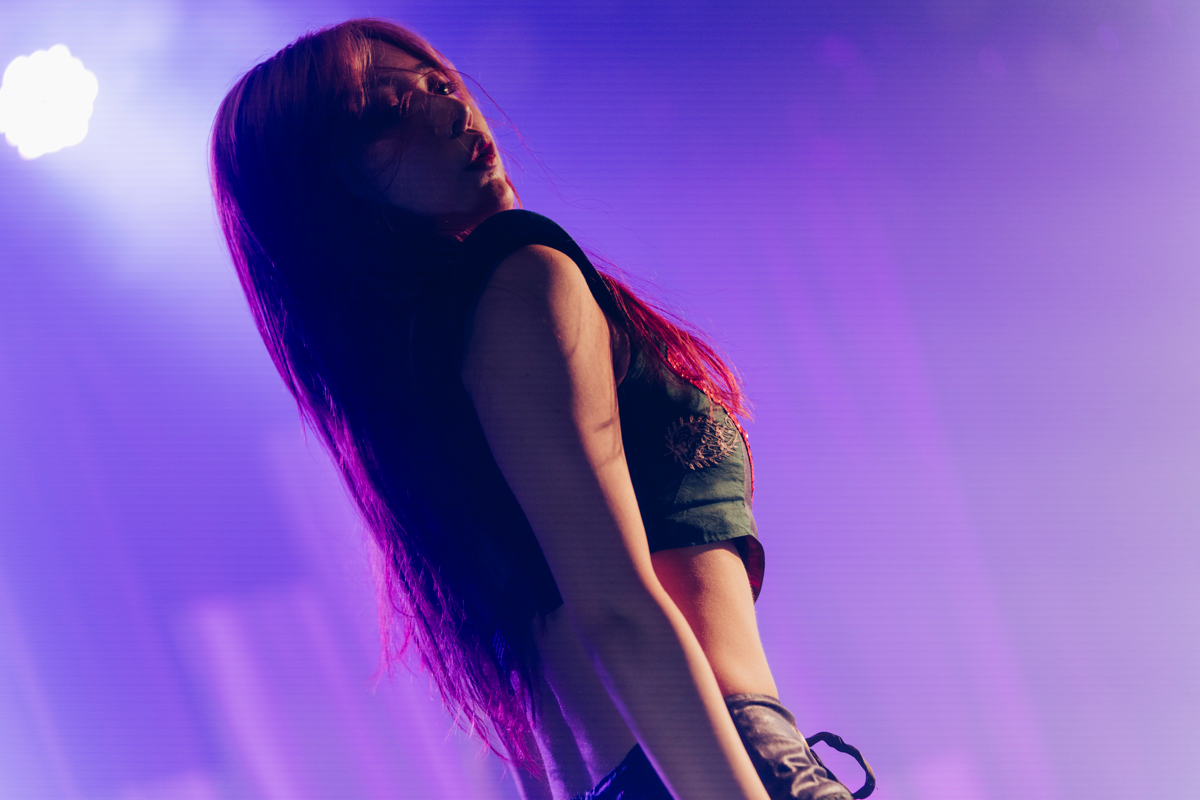 They had another MC where each person gave their thoughts on the tour.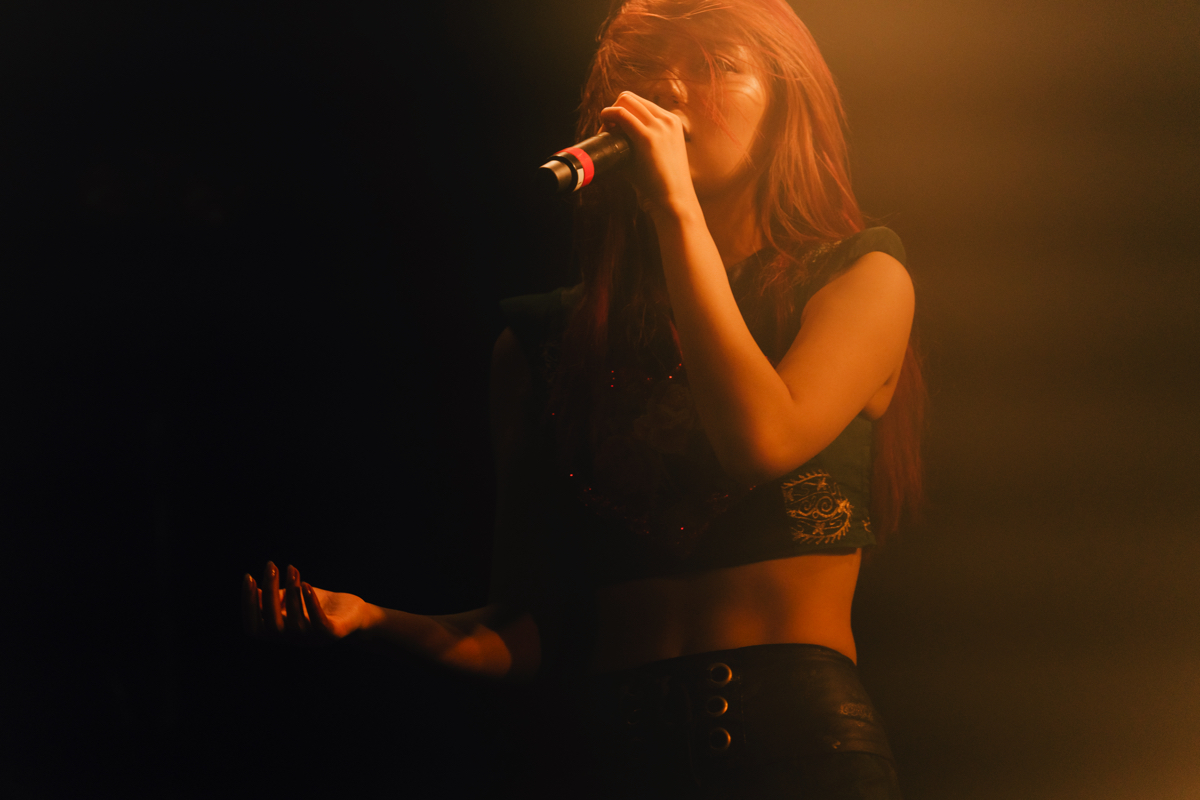 Aizome Karen:
"Maro-chan wasn't with us for the Kyuushuu performances, and I think the fans were nervous but still came to see us here today, and I want to thank you so much for coming. I'm not good with words and I don't really use social media, but I'm so grateful that you still come to support me like this. I am unbearably happy that we got to perform as 6 today, and I'm so glad that you came to watch us. Thank you again for coming today."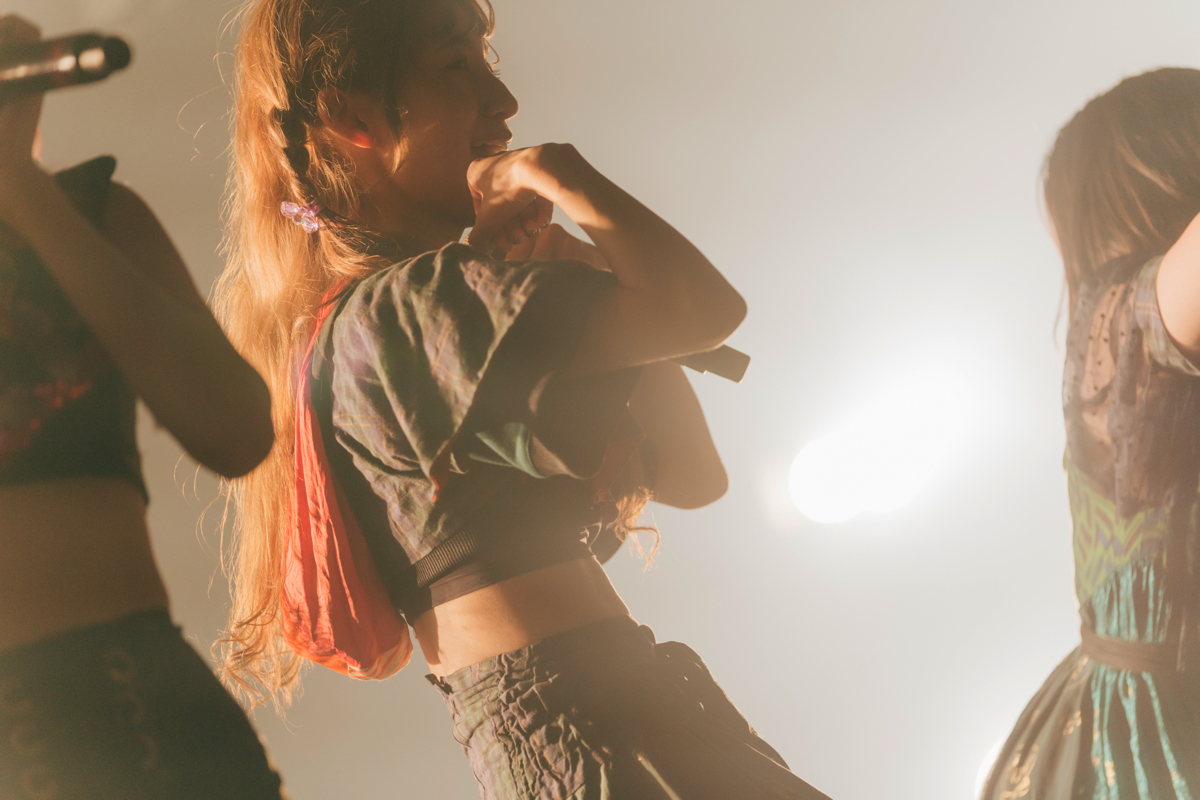 Nishii Marina:
"Thank you for today. It's a long tour, and a lot has been happening. You only know as much as you can see from us, but it's because we are so serious about ZOC that we butt heads, and everyone thinks about ZOC a lot, so it ends up coming out this way. I want to keep ZOC going, from the bottom of my heart, and I think as long as we feel that way, everything will work out. I want us to keep working as these 6 members, and I want work hard to give you all peace of mind and have fun as an idol. There might still be things you are worried about, but I hope you can enjoy supporting ZOC. I'm glad all 6 of us could perform here today. Thank you."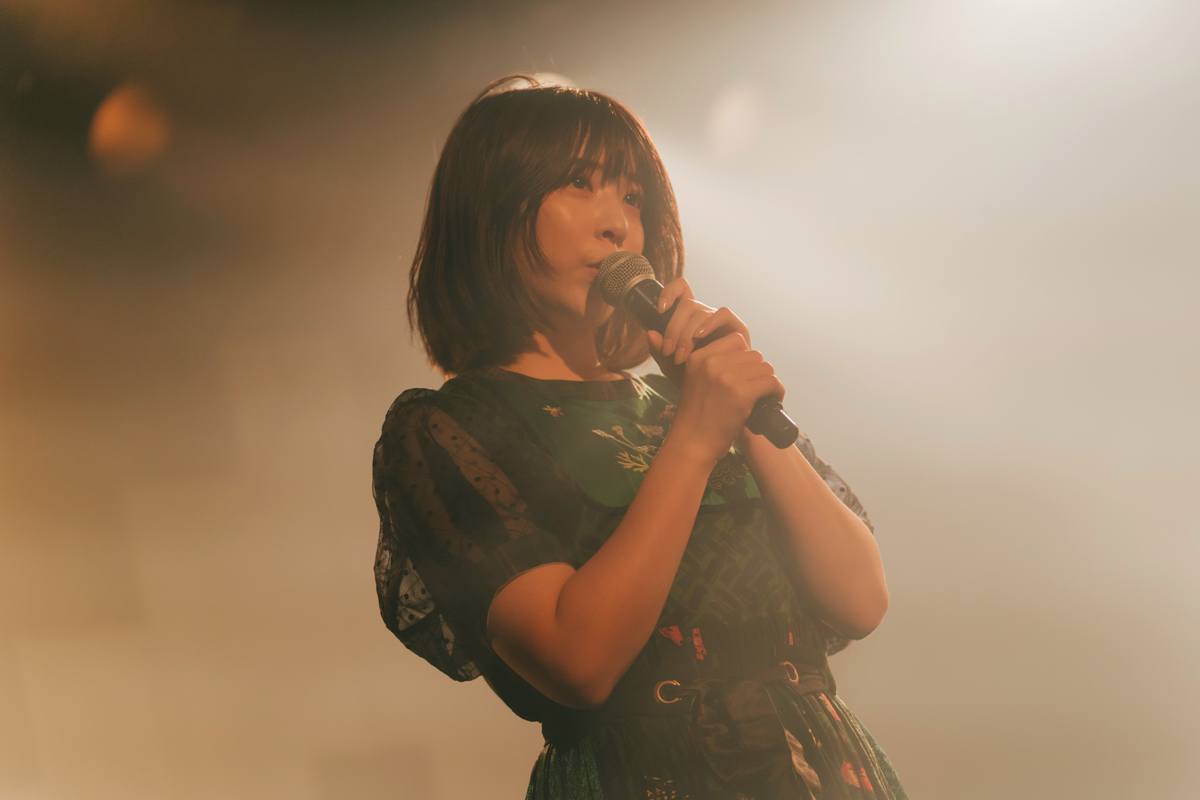 Kannagi Maro:
"Once again, I'd like to apologize for causing you so much concern. I'm really sorry. I want to make ZOC better, and I really feel that I want everyone in ZOC to become well-known and for our music to reach even more people. That's why, as Nicchan said, we work seriously as a group, not just on our own, and that's why there will be times when we fight. There were many days, many weeks when I thought ZOC couldn't keep going... I thought so many times that the only thing I could do was give up. I tried to be alone when that happened, and for the first time I experienced what it feels like to hear words from people who were thinking about me, opinions from people who I definitely knew were my allies, and perceive them as my enemy. It was the first time I understood how Seiko-chan felt when she was alone and didn't see me as being on her side even when I told her I was.
I've caused you all so much trouble, but there was never a time when I didn't think about ZOC. I want ZOC to keep going, but when I felt like I couldn't do it anymore, that my heart was about to break, Nicchan and Riko would come to see me and ask me to work together with them, and Seiko-chan would tell me, "Don't give up music over something like this, let's get to work together." I don't know why I didn't realize how important this was to me, but I took a hard look at myself after you all became afraid for me. ZOC is for me and for all of us something very, very important, so even when sometimes things aren't working out, even when sometimes we fought and I thought I should quit, I realized that it's not something I can let go of so easily. More importantly, I want to keep growing. Seiko-chan says you can't lie on stage, and I really think that's true, so with you all in front of me, I want to treasure our music and keep working hard for ZOC in my own way. Thank you so much for today."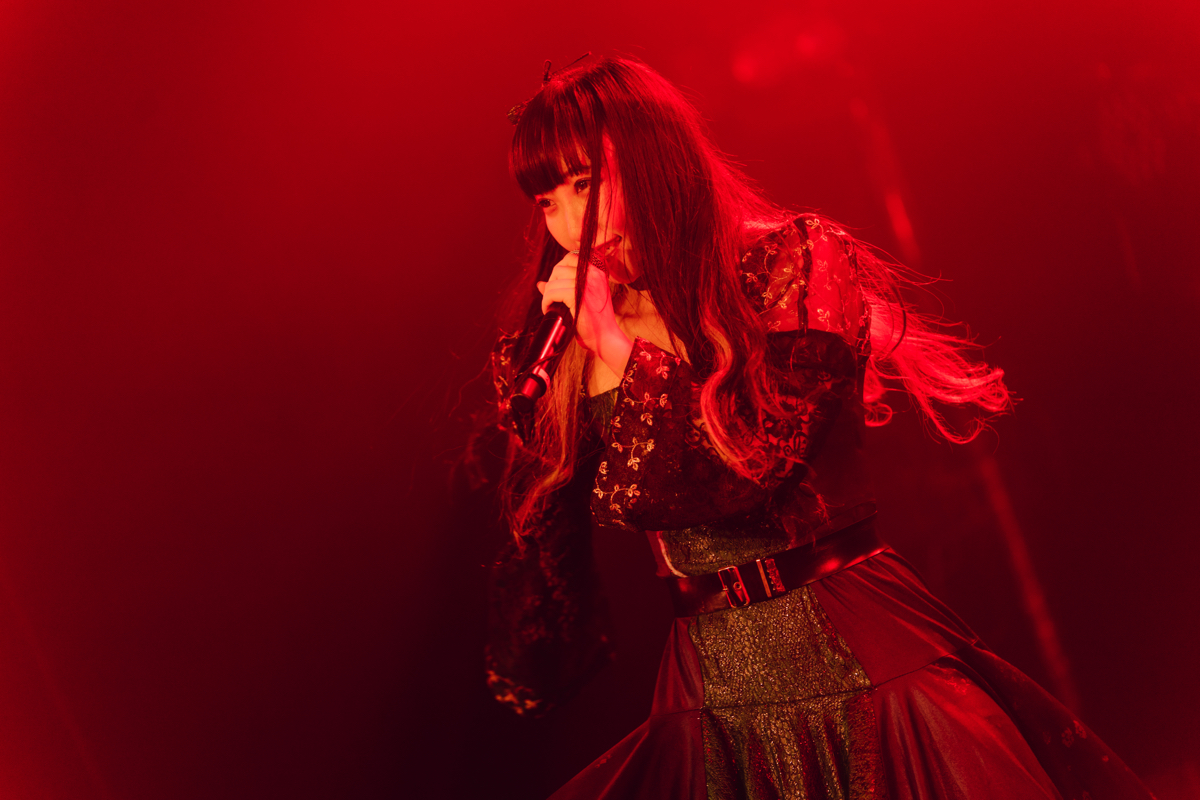 Yachia Riko:
"Thank you all so much for coming today. (starts to cry) But I said I wouldn't cry today... I might be showing you a really pathetic side of myself, but before I joined ZOC, for a long time, I had never shared emotions or done anything together with people. So I was very bad at things like this, and I wasn't someone who could do that. In my life, I had struggled to show my abilities on stage, and I wondered how I should get involved with it. But now that I've done it, I want to be good at it. I thought I could push myself as hard as I could, but I'm not that capable, my capacity to do so wasn't that much. I always feel like I'm inexperienced as a person, and I have felt that way even more now. I don't know the best way to go about things, but I am so grateful that the other 5 members work together with me. I really want to keep working hard. Thank you for your support."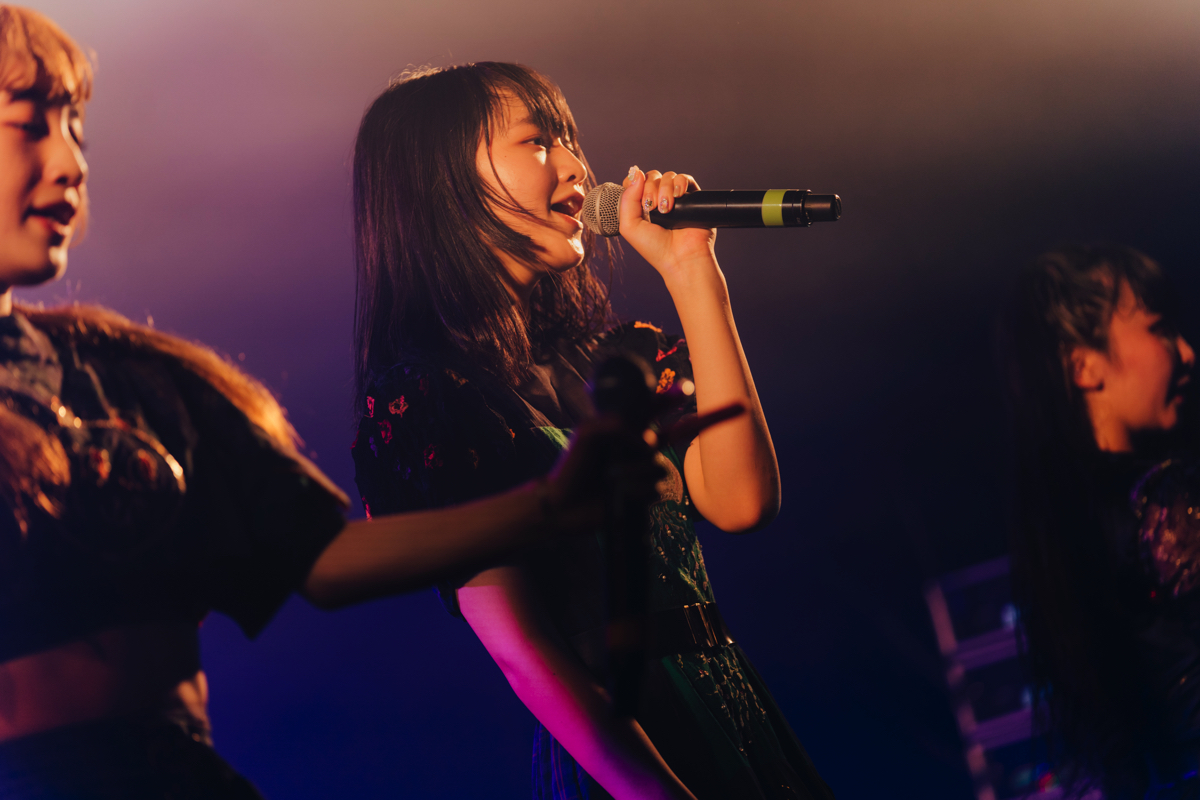 Shizume Nodoka:
"Thank you so much for coming today. As I said in the beginning, I feel that I'm really inexperienced, so I don't think that anyone is at fault for both the members and the fans feeling let down over such trivial things. When I was thinking about it, I realized how grateful I always am that even though I'm not good at anything, I'm able to be with the ZOC members and be in a place where I learn from my elders. I have to be grateful for these circumstances, is what I realized, and I really am so thankful, but I often feel guilty. I'm still so green and useless, but I've gotten more capable because of the people around me, and I think how you see me will keep changing, so I want to keep doing my best. Thank you to everyone for coming out while things are how they are today. Please continue to support me."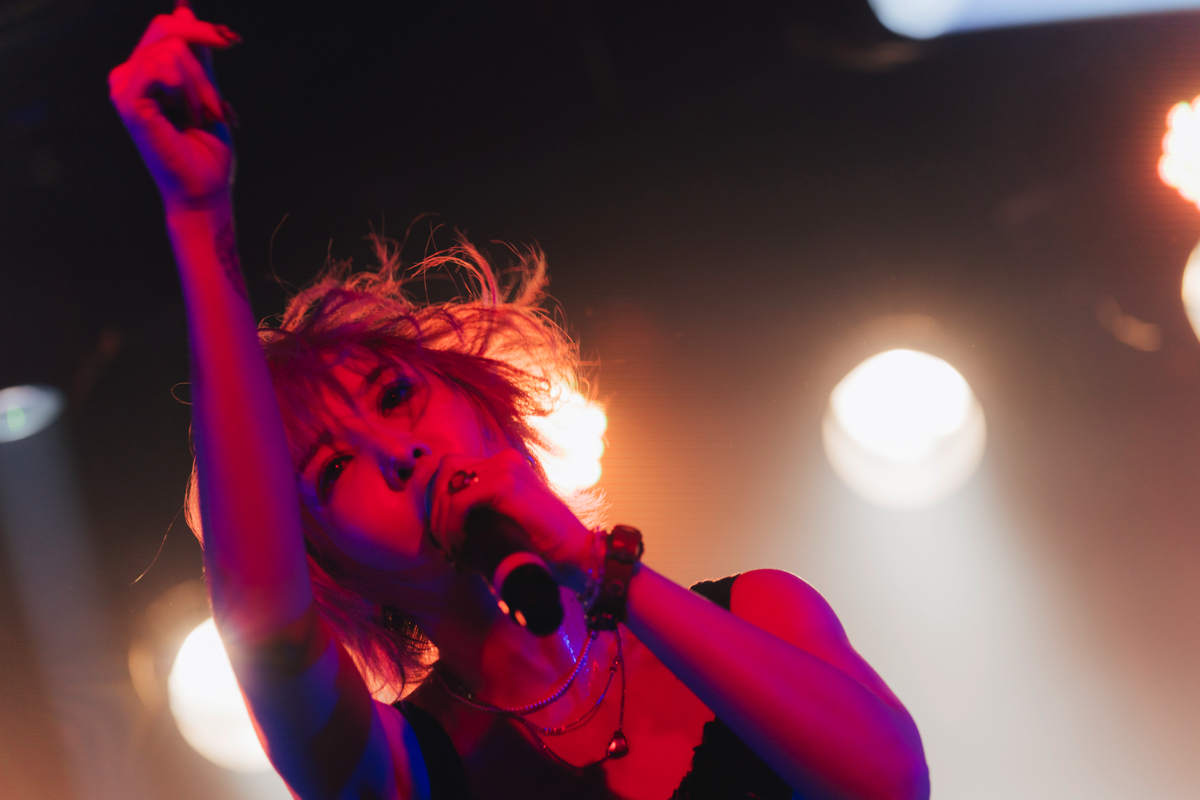 Oomori Seiko:
"Since starting ZOC, I wanted to dismantle the world we live in where people hate each other, where people are intolerant of others, where people hurt each other, and I hoped to rewrite a world where everyone could live without stifling themselves. I wanted to work in such a way that changed people's values. But all I really feel is how insufficient I am on my own. I started as someone who lived on the edge of normality, and in response, I received your support, and I apologize to the members who have been working together with me, but I can't stop what I've started... If I stop, everything will come to an end because I've put my whole life into this, and I have not been able to stop to think about things.
I intended to look at each of our goals, each of our personalities, but I have not put my own personality out there as something to discuss. Because of this, I really thought that my body, that I wasn't necessary, but I was the one who did that to myself first. Every day I felt the other members trying to keep me from feeling that way. More than wanting to grow as a person, now that I know this, I want to reset myself anew, I want to be calmer, and I want to live and let live. I want to let people be without suppressing myself, I want to love everything.
True diversity is when it is a given that everyone sees the beauty in all other people, to the extent that a word like diversity isn't necessary. That's all I want. I realize that when I say it doesn't matter what I think, that's not a positive thing for the other members who take me seriously or all of the fans, but look at how much time I've taken up. I apologize. What I did to Maro was inexcusable. I think I beat myself up for things because I didn't trust anyone else. I'm sorry.
I'm afraid of people not getting me, so I ended up not saying anything. Not getting it is so commonplace for me, I cling to music, music was the only thing I trusted in. Music told me not to run away, and even though I didn't know where I belonged, when I stood on stage today, I realized that it's here that I belong. Thank you so much for coming today.
I want to keep writing new songs about life. I want to live while valuing all of me, not throwing away what's inside, and I want everyone else to do the same. I know that the people who came here are kind people, I never want to forget that. Thank you so much for coming today."
Oomori hid her tears with her hand as she spoke, and then Kannagi said, "Believe and trust in us more. Ask for help more." Finally, the 6 sang "CUTTING EDGE" before telling the audience, "WE are ZOC!! Thank you," and the curtain closed on the first Sendai performance.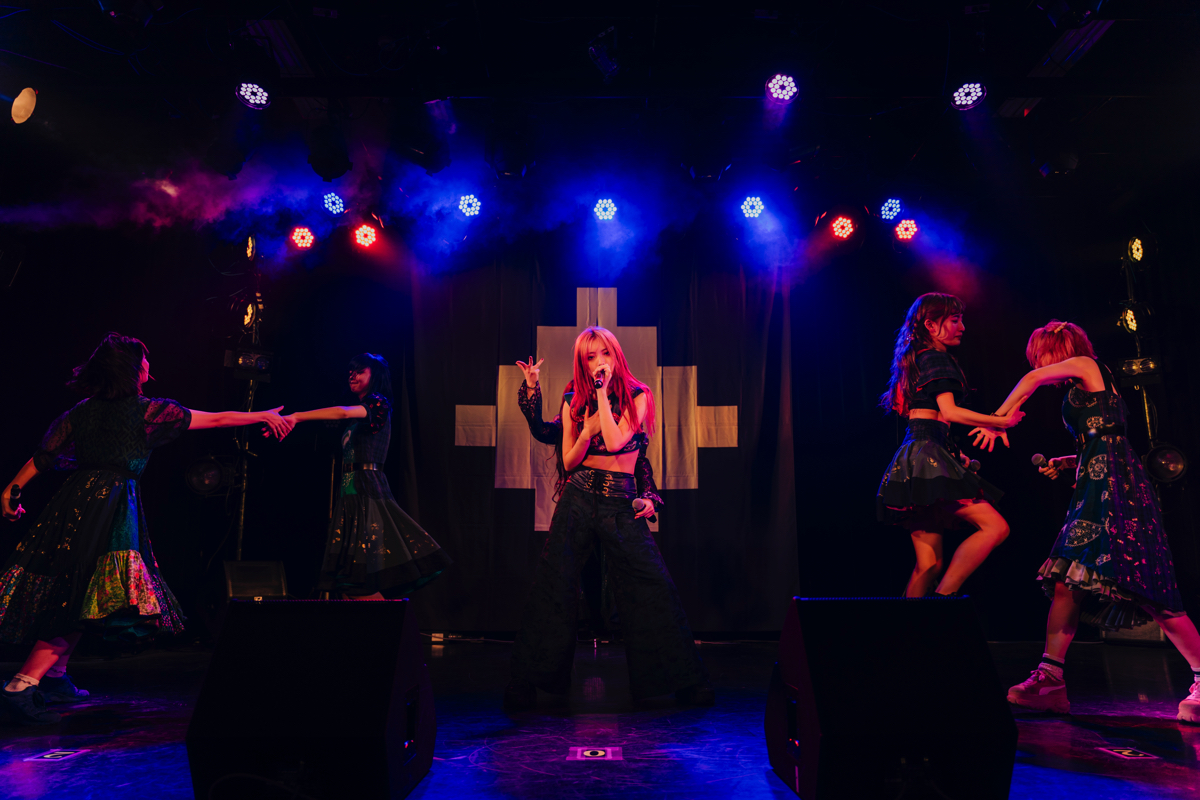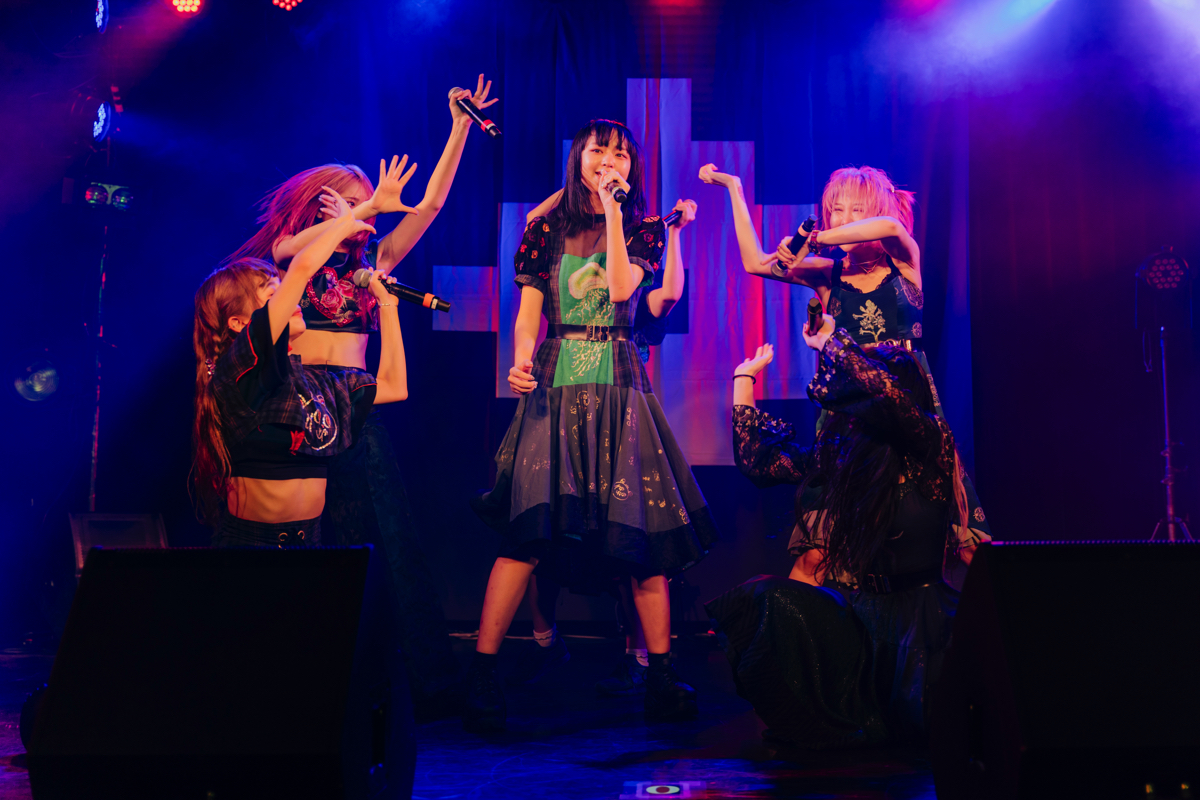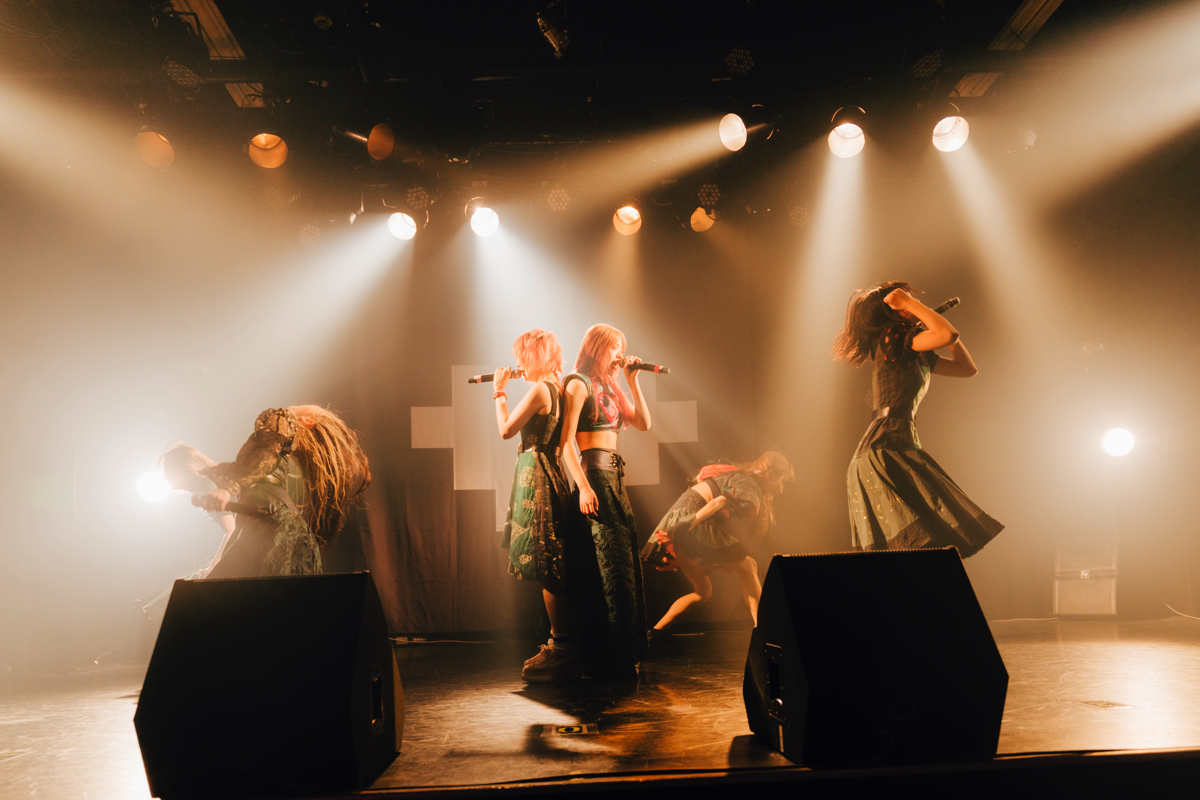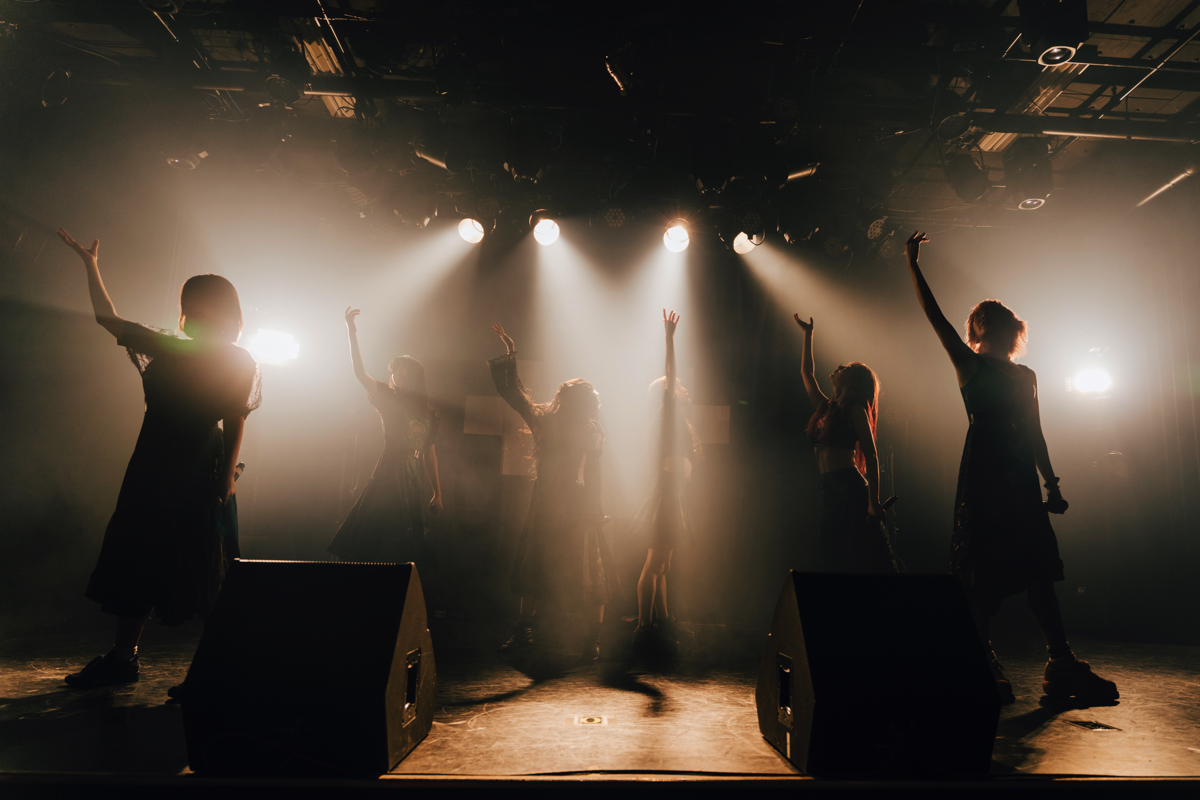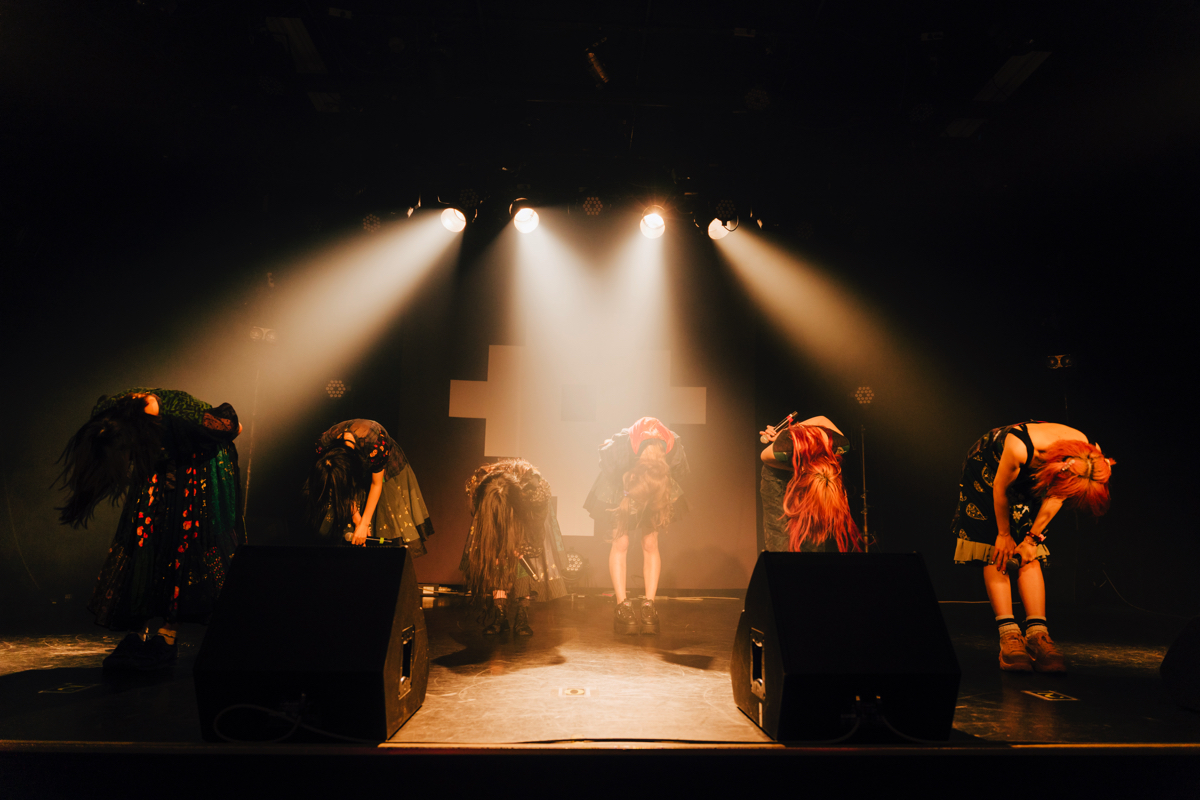 Article & Editing: Nishizawa Hiroo
Photos: Makura Asami
〈ZOC FOR PRAYER TOUR 2021 SUMMER〉
2021.08.14 (Sat)@Sendai darwin
First Setlist
1. A INNOCENCE
2. IDOL SONG
3. チュープリ
4. GIRL'S GIRL
5. CO LO s NA
6. 眼球にGO!
7. family name
8. Fake baby
9. りこりこ☆くろまじゅつ
10. 僕達のおんがく
11. DON'T TRUST TEENAGER
12. 14才
13. 断捨離彼氏
14. LiBiDo FUSION
15. 濃♡厚♡接♡触
16. CUTTING EDGE