1

My top 4 duos (groups of two girls)
Ai Kago
Nozomi Tsuji
Bo and Monica
S.O.A.P.
Hangry and Angry
Rika Ishikawa
Hitomi Yoshizawa
Me & My
Double You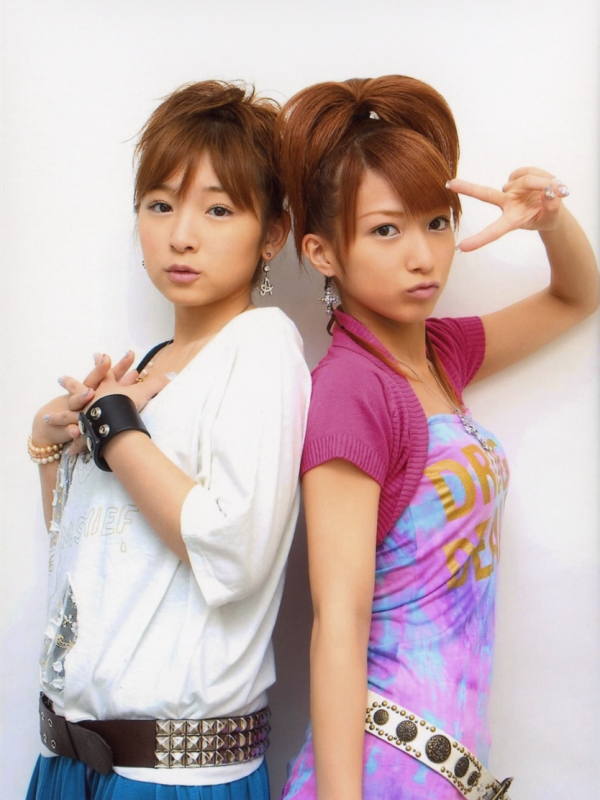 Hello! I visited 3rd Street Promenade last night in Santa Monica. It was cool. If you ever get the chance to go there, I would recommend it. They have musicians playing on the street for tips.
I'd like to thank everyone who commented on my previous post. I found out about some new duos, or two girl groups. I enjoyed checking out your favorites. I even realized that I left a couple of groups out of the previous post that I should've mentioned. One is Bo and Monica. They got their start from a Dutch young people's drama called "Topstars." Bo was played by Noi Pakon and Monica was played by Ingrid Jansen. Their first single and biggest hit was "Gonna Be a Star," from 2006. They were expert dancers and had a way of dancing that was loose and graceful at the same time. They released two more singles and then disbanded. Noi Pakon went on to found Companie Newa, which does aerial shows. (You know, like dangling from the rafters from a cable, and doing all sorts of tricks.) I am connected to Noi on LinkedIn, and one of my family members is friends with her on FB. She is always up to interesting things, like performing in music videos and going on vacation to Ibiza.
Another duo I should have mentioned last time is Hangry and Angry. This group is made up of Rika Ishikawa and Hitomi Yoshizawa. I won't go into detail about what they stand for, or their commercial tie in. You can look that up on your own, if you are interested. They look very pretty in their PVs, although they wear a bit too much make up for my taste. Their music is pretty good, and it is interesting when they get overly friendly with each other. Usually, it is Rika putting her hands on Yossie.
Anyway, their last single was released in 2011. I hope they release more music. I also hope they come back to the U.S. to perform.
OK, on to my top four duos. (It was going to be top three, but I forgot one, ha ha!) My number four duo is S.O.A.P. They are sisters, Heidi and Saseline (Line) Sorenson. They were born in Malaysia, but were adopted by a family from Denmark. So, when they debuted in 1998, they were basically Danish who didn't look Danish.

Their first single was "This is How We Party," which was an international hit. It went platinum in Australia and gold in Sweden. They have some nice PVs. They are nice looking, and they can dance well. They also put some humor in their videos. They have a sound that is like a cross between R&B and pop, which is hard to figure out, given their background. They wound up putting out two albums, and then faded into obscurity. Heidi tried to make a comeback by trying out to be the Danish entry into the Eurovision Song Contest. The quality of her song, however, didn't match up to what she did as a member of S.O.A.P. Here is a piece of S.O.A.P. trivia. Their song "Stand by You" was covered by the British pop group S Club 7 in 2000.
My third place duo is Me & My. Another sister group, Me & My are Susanne and Pernille Georgi, also from Denmark. I had heard of this group before, and I saw their CD for sale in the Book Off store in Westminster Mall. I thought I would get it, and I just love it! Their breakthrough hit was "Dub I Dub" in 1995. This song is a favorite on Dance Dance Revolution (DDR). Me & My is credited with giving rise to a new genre of music, called Bubblegum Dance music. This type of music was made famous worldwide by Aqua ("Barbie Girl"). A couple of other good songs by Me & My are "Baby Boy" and "Lion Eddie." Me & My went on to release a total of three albums. Last year, the group announced that they have plans to appear in Japan in 2014, and possibly have a tour.
My second most favorite duo is Halcali. They are made up of two girls, Halca and Yucari. They made their debut in 2003 with the single "Tandem." Their style is a combination of hip-hop and J-pop. Most of their songs have a rap break in them. I really like their music. Their PVs are good, too, very weird and interesting. It's like, "What? Why is that in their video???" Their background is in dance, and I really like their dances in their PVs. They exhibit a lot of dancing skill, but they are so relaxed and unpolished. The one thing that holds them back from being better liked by me is their fashion style. They go more for a 'cool' look, rather than a 'cute' or a 'sexy' look. They show very little skin, so that reduces their appeal to me. (This probably makes me look bad, but what can I say? I gotta be me.
) Halcali has released five albums so far, their most recent being in 2012. If you want to see a cool PV by Halcali, I recommend "Twinkle Star," "It's Party Time," or "Roman Hikou."
OK, now for the moment you've all been waiting for . . . my #1 duo! Well, in case you haven't guessed it, my top duo is W, or Double You. They are Ai Kago

and Nozomi Tsuji. Maybe someone else has better music, and maybe others are better dancers, but there is just something about these two. And I mean together, not individually. They complement each other so well, both with regard to their voices and the way they look on stage and in PVs. They put out some excellent PVs, very entertaining. It is a shame they are no longer together. You probably are aware of the circumstances regarding Kago getting fired from Hello! Project, so I won't go into that here. I just want to emphasize how much I like W, and express regret that they didn't get to run their creative course. Maybe W was just too good to last. It doesn't hurt to think about what might have been. To those people who keep hoping for a reunion and a comeback though, I recommend you give up on that. In closing, I'd like to note that I like all of the PVs from W. My favorites are probably "Ai no Imi wo Oshiete!" and "Robo Kiss." If you haven't seen it, check out the happy version video of "Robo Kiss."