Left Ringo Musume, right Morning Musume. Both about 2001.
After seeing topics for AKB rip-off groups, I realized there was a gap of information about H!P rip-off groups. There is plenty of them out there, but I'm going to talk about my favorite,
Ringo Musume.
Ringo Musume formed in 2000, at the height of Morning Musume's fame. This was the time when Tsunku could sell just about any idol group by tacking "Musume" on the end, and Ringo Musume was obviously hoping they could cash in on that.
To be clear; Tsunku, Hello!Project, and UFA are in no way involved with this group.
The group is formed with girls based in Hirosaki, and it's theme is "cool & country". The then five member group debuted with the single "LOVE&SOLDIER", which is now incredibly rare. I haven't heard the original and have never seen an album cover bigger than 100x100 px. (You can see the current line up performing a cover of the song
here
)
The group slumped in activity until 2002 when they introduced a second generation (the group number was still the same, a girl left the group in 2001 and they replaced her) the group then released their second single "YOU", which was an even bigger flop then their debut. (You can hear the 2006 line up perform the song
here
.)
Following that there was a half-hiatus in Ringo Musume's career. They were still TECHNICALLY a group, but they weren't recording any new material and their public appearances were few and far between. Coconuts Musume did the same thing after Lehua left, to give H!P fans a reference to relate too.
In 2005 EVERY member of Ringo Musume took part in a mass graduation.They were now referred to as "Phase 1'. The new generation "Phase 2" consisted of only three girls, instead of five. They released their first album "Aomori Ringo", which had all the singles they had released up until then plus some new original songs. They also performed a concert to promote their new album.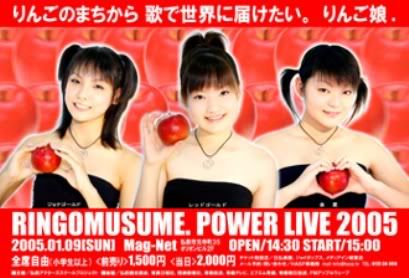 Unfortunately one of the members left the group shortly, after bringing the trio down to a duet. Undeterred, they released their first EP "Kare no Keitora ni Notte" later that same year. The title track was a smash hit by Ringo Musume standards, the first to actually land on the charts too. Granted, it was near the bottom but it was better than nothing. (You can watch the PV
here
, yep that's right, this song got a PV. And a damn good one too.)
In 2006 they released their single "Ringo Kimochi", which sadly didn't do as well as their previous EP.
In 2007 they released their single "Diet", which had a lower budget than some of their previous works but adorably so. (PV
here
.)
Once again, the group took a mini hiatus for unknown reasons. Like before, this was followed by a mass graduation in 2010. The two members from Phase Two were graduated and replaces a girl from Phase 3, 4, and 5. For some reason each girl was assigned a Phase. The girl from Phase 4 graduated so she was replaced with two girls who became Phase 6. The two girls were from Maiden Alps.
Sidenote:
Just to make things more confusing, Ringo Musume has their own version of H!P Eggs which they call Maiden Alps. Maiden Alps dance back up at live shows like Eggs do, with the hopes of one day joining the band. Not much information is available about Maiden Alps.
This new line up is the current line up of Ringo Musume (seen at the top of the post), which brings us to present day. In 2010 the new line up released their single "Train". Sadly, no PV was made but they perform the song often. (
Here
is a link to a live performance featuring the Maiden Alps dancing back up.)
Today, Ringo Musume is heavily involved with Earthquake relief efforts, as well as performances at nurseries and old age homes. Their newer songs are all available on
iTunes
and
Amazon
.
Buying their music is in this case not only a good idea because you support a struggling idol group, but also a good idea because you won't find any torrents of their stuff online. Trust me, I've looked.

If you're short on cash or just cheap you can find some Mp3's on YouTube, but not very many and not the highest quality in some cases.
Along that note, there isn't very many non-Japanese Ringo fans out there.
Hell, there isn't that many JAPANESE Ringo fans out there
. So if you're looking for information on them in English, you'll have to settle for less. The majority of this post was written with the aid of the Japanese Wikipedia and Google Translate.
The Current Line-Up:
Name:
Redgold ( ジョナゴールド lit. translation: Jonagold)
Date Of Birth:
February 4, 1992
Blood Type:
A
Hobbies:
Watching DVD's, Korean dramas.
Her Official Blog
Name:
Jonagold (レットゴールド lit. translation: Let Gold)
DOB:
July 7, 1990
Blood Type:
B-
Hobbies:
Agriculture (?)
Her Official Blog
Name:
Kinsei (金星 lit. translation: Venus)
DOB:
July 4, 1995
Blood Type:
?
Hobbies
Studying characters (?), being positive, sushi, candy
She does not have a blog.
Name:
Toki (とき lit. translation: Ibis)
DOB:
July 21, 1998
Blood Type:
?
Hobbies:
Smiling, talking.
She does not have a blog.
Links:
Aside from the links in the article, you can find more Ringo goodness at their official website:
http://ringomusic.heteml.jp/jcms1/
Their official YouTube page:
http://www.youtube.c.../ringomusumecom
Or their official blog:
http://rm.livedoor.biz/