BerryzKawaii101
Member Since 22 Jul 2008
Offline
Last Active Sep 19 2009 06:31 PM
About Me
Hey! You can call me Sakura.

I love Hello! Project and Johnny's Entertainment! I am very girly and I love anything pink and sparkly!

Anyway my passions are singing, dancing, and acting and my dream is to become famous in Japan and America one day and possibly be in Hello! Project!

PLEASE HAVE AUDITIONS IN AMERICA, TSUNKU-SAN! ~ I also love anime and manga! Some of my favorite anime are Fruits Basket, InuYasha, Fruits Basket,Kamichama Karin, Kodocha, Black Cat, Lovely Complex, Vampire Knight, Full Moon Wo Sagashite, Shugo Chara, Death Note, Bleach, Full Metal Alchemist, and others.

My favorite manga areTokyo Mew Mew, Ultra Maniac, Nana, Kamichama Karin Chu, Pearl Pink, and Fruits Basket. ~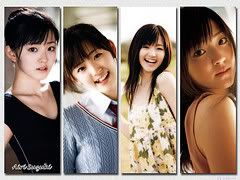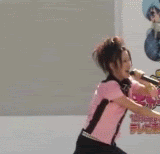 Favorite Members: (1rst and 2nd)
.¤ª¨★.•°♡°•Hey! Say! JUMP.¤ª★.•°♡°•
★Ryosuke Yamada♡, Yuri Chinen, Yuto Nakajima
.¤ª★.•°♡°•Berryz Koubou.¤ª★.•°♡°•
Miyabi Natsuyaki & Momoko Tsugunaga
.¤ª★.•°♡°•C-ute.¤ª★.•°♡°•
Airi Suzuki and Maimi Yajima
.¤ª★.•°♡°•Morning Musume.¤ª★.•°♡°•
Reina Tanaka, Risa Niigaki, & Ai Takahashi
.¤ª★.•°♡°•KAT-TUN.¤ª★.•°♡°•
Jin Akanishi and Kazuya Kamenashi (Kame)
.¤ª★.•°♡°•NEWS.¤ª★.•°♡°•
Yamashita Tomohisa (YamaPi), Yuya Tegoshi
.¤ª★.•°♡°•DBSK/TVXQ.¤ª★.•°♡°•
Hero Jaejoong and Max Changmin
love Japanese dramas!♥
Dramas I have watched/watching:
Sensei Wa Erai! (Finished)
Tantei Gakuen Q (Finished)
Tantei Gakuen Q Special (Finished)
One Pound Gospel (Finished)
Nobuta Wo Produce (Finished)
14 Sai no HaHa (Finished)
Seigi no Mikata (Finished)
Furuhata Chuugakusei Special (Finished)
One Litre of Tears (Finished)★Favorite★
Yukan Club (Episode 2)
Banjun Drama ~ DBSK (Episode 3)★Korean★
Scrap Teacher ~ (Episode 5)
---
Community Stats
Group

Shinmem

Active Posts

1

Profile Views

1899

Member Title

Auditioning...

Age

Age Unknown

Birthday

Birthday Unknown

Gender

Female

Location

United States of America

Interests

♥-ღ°`♥-ღ°`♥-ღ°`♥-ღ°`♥-ღ°`♥-ღ°` ♥-ღ°`♥-ღ°`♥-★<br />♥ Hey, you can call me Sakura! As you can see, I love Hello! Project. My favorites are Morning Musume, Berryz Koubou, and C-ute. Miyabi and Momoko from Berryz Koubou are my favorites, Airi and Maimi from C-ute are my favorites, and Reina and Risa are my favorites in Morning Musume. ^_^ ♥<br />♥ I also like Johnny's Entertianment, a company like Hello! Project but it consists of boy groups such as Hey! Say! JUMP, KAT-TUN, NEWS, and Arashi ♥<br />My favorite groups are Hey! Say! JUMP, KAT-TUN, and NEWS. <br />♥ I love Ryosuke Yamada from Hey! Say! JUMP. <br />♥ I love YamaPi, Yuya Tegoshi, Massu, and Ryo Nikishido from NEWS!<br />♥ I love Jin Akanishi and Kazuya Kamenashi from KAT-TUN! ♥ <br />I love anime such as InuYasha, Fruits Basket, Shugo Chara, Bleach, Kamichama Karin, Naruto, Full Moon Wo Sagashite, Full Metal Alchemist, Kodocha, and Black Cat.♥
Previous Fields
Favorite Idol

Miyabi Natsuyaki
Viewing Profile: BerryzKawaii101