~asianqueen~
Member Since 20 Apr 2008
Offline
Last Active Apr 19 2020 05:27 AM
About Me
<--SNOWBOARDING FTW~!!! My bff Alicia (left) and meee~
Name:
Jackie
Nickname(s):
Kiki
(fam & close friends; you can use it too ;P),
Jay
(when I hang wit da boyz~),
Queen[ie]
(of DORKS)
Reason behind screen name:
I tend to fall under EVERY SINGLE asian stereotype known to man. Hense, the "~asianqueen~"
Ethnicity:
100% Thai~ I can speak and understand fluently, but I can't read or write. I quit Thai saturday school too soon for it to stick. T-T
Other languages:
English (of course) and Japanese. (I finished my Japanese studies in college and I can understand perfectly fine as long as the conversation is within my random vocabulary range. Same with reading and writing. However, I still have to think before I speak in Japanese....)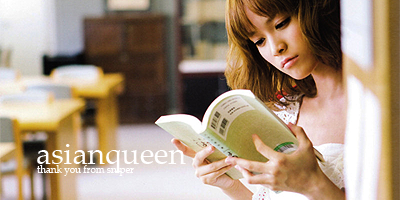 <-- gift from good buddy
Sniper
~ It's gorgeous!
Age:
17
Weight:
I'm not skinny. That's all you need to know. XDD
Height:
Sometimes I'm 5''3', sometimes I'm 5''2.... don't ask me why or how, I don't know either.
My Hello! Project twin:
Okai Chisato <=people keep saying I look like her. Now that's she's dyed her hair and got bangs... I guess everyone's right. *sweatdrop*
<=obviously my camera sux LOOLZ
Favorite Color:
Green and White
Pet:
I don't have one cause my sis is afraid of anything with more than two legs. I want a dog SO BAD!
Favorite Animal:
Pandas, Dogs, Cats, anything that is fluffy~
What I shout out when I'm surprised:
"HOLY CRAP FACE~!!!"
Catchphrase:
"...oh my..."
Hobbies:
anything adventurous/dangerous, sports, band, drawing, singing, guitar, piano, reading, writing, dancing, games, dramas, hanging with buddies
Trivia skills:
solving a rubix cube in under 2 minutes, DDR on heavy, knowing too many useless random trivia facts, and hurting myself somehow on a daily basis~
<=
KuteKim
made this to help cure my writer's block~

It fits my fic perfectly too! Check it out:
~Guardian Angle; Not Angel~
Sports:
Various Martial Arts (black belt), Soccer (used to be right wing forward; currently not on a team), Tennis (captain of the varsity team), Snowboarding, Roller Blading, etc. (these are just the main ones)
Trained in:
Tae Kwon Do, Hap Ki Do, Kumdo, Nunchucks, Judo, and Muay Thai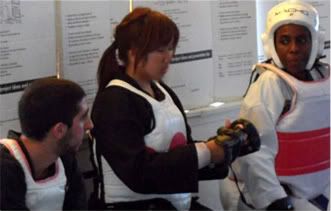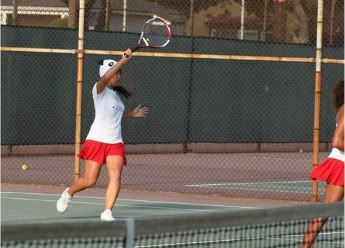 TKD sparring~

gah, I miss tourney competitions (>.<)...........................And my fav shot! The buggy whip~

Who I admire:
anyone who can make me yell "WOW~!" (that's pretty easy to do)
What I like about myself:
I'm totally open minded to anything; seriously. (Except drugs. I'm clean and I intend to stay that way.) And I'm always in a good mood. I never really get angry. I can get annoyed, but not angry.
What I dislike about myself:
I can be VERY stubborn. Impossible to talk me out of something when I've already made up my mind.
What I am scared of:
disappointing people and swallowing pills... (O.o)
Charm point:
ummm... my brown eyes? I've been told my eyes smile with me when I smile. (totally makes me look chinky eyed)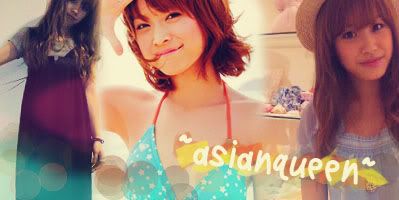 <=AMAZING gift from my good friend
kawaii beam!Habits:
I rearrange my bangs every 5 seconds, I'm constantly hurting myself due to clumsiness, I clap when I laugh, etc
Insrument:
Why flute of course! (what else can the 'asianqueen' possibly play?) I'm a total BAND GEEK FOR LIFE! I'm in Wind Ensemble AND Marching Band. I used to be in Jazz Band and Jazz Combo while I was on tenor sax. I miss it~ (why do I sound so nerdy...?)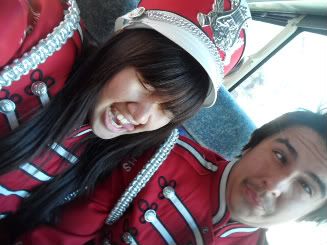 <-- sun is shining on me!
Music preference:
I don't really have one since I'm pretty open. But I am a sucker for meaningful lyrics no matter what genre.
Fav H!P group:
Morning Musume ALL THE WAY.
J-artists:
The Brilliant Green, Mr. Children, flumpool, Aragaki Yui, Miura Daichi, Utada Hikaru, NEWS, Remioromen, etc.
K-pop:
BIG BANG, SHINee, Super Junior, Girl's Generation, B2ST, DBSK, BoA, KARA, f(x), etc.
Thai-pop:
K-OTIC, P.Bird, Katreeya English, KamiKaze, Seven Days
American music:
I like up-beat, ballad, or things to dance to. I can't list out artists, cause I don't really follow them, I just like their songs.
Classical music?:
HELLS YES.
Message to everyone:
Well, I REALLY like meeting new people and making new friends. (<--that sounds so cliche', but how else am I supposed to word that) Feel free to PM me or leave me a comment to say 'Hi~'! If you want my facebook, you can ask.
Now, let's leave off with a GORGEOUS gift from another one of my good buddies,
ArielSoul
~~~ Who can resist an Ai-chan smile?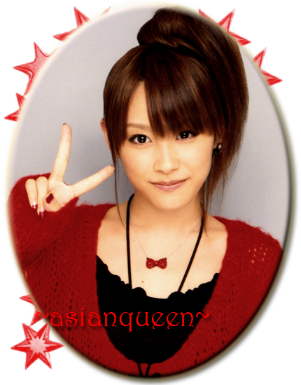 ---
Community Stats
Group

Senpai

Active Posts

1915

Profile Views

16769

Member Title

AI~ddicted & KAME~cted

Age

27 years old

Birthday

March 18, 1993

Gender

Female

Location

LA, SoCal~!!!

Interests

wow... I have too many interests to list. I'm too open minded. Umm... refer to my "About Me"?
Previous Fields
Favorite Idol

Takahashi Ai, Kamei Eri, Aragaki Yui, & many more~
Viewing Profile: ~asianqueen~