Mei.ka~
Member Since 22 Jan 2011
Offline
Last Active Mar 23 2013 04:51 AM
I got part of my birthday package coincidentally on my birthday today! YAY! ^.^ Took shorter than I thought it would, too. (A week ;D)
Updated 20 Mar · 5 comments
About Me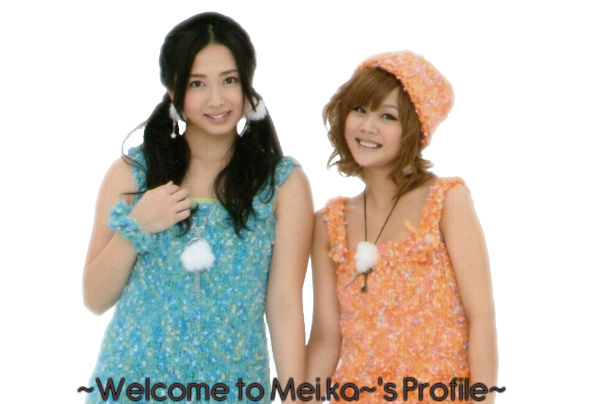 Salutations to you good sir/good ma'am in whichever fine establishment you are residing in!
H!P Background
I'm Mei.ka~! I became an H!P fan on April 11, 2009. How? Well, I was watching a video of the Haruhi Suzumiya song BE BE BEAT and in the comments, people said it reminded them of a song called Renai Rider by Buono!. Since I loved BE BE BEAT so much already, I figured that I should see what this song is like since I'll probably love it, too. I was wrong...

Just kidding! It was like love at first sight! Then in the related videos, I saw the dance shot and freaked out (Since I loved and still love learning dances.). I know the exact date because that was the day I had to go to church for Easter. I had to shut down the laptop since it was time to go, but I said that I would learn the dance after church. I did and that's pretty much the story! Ever since then, I have gotten to know (in this order) C-ute, Berryz Koubou, Morning Musume, S/mileage, Mano Erina and all the other amazing acts.I am SO glad that I have discovered H!P since it has benefitted me and changed my life. Seriously, before I listened to Jpop in general, I used to make fun of my older brother for singing the lyrics to anime songs. Ironic, since now, he makes fun of me for singing these idol songs.

I have absorbed the knowledge of the culture and now accept it fully! Not only has it opened me to the Japanese culture, it made me open to learn-ing others' cultures. I am forever grateful to H!P and Jpop in general for opening me up to other experiences and opportunities. Thank you~!
Info About Me
I was born on March 19, 1996 in The Philippines. According to my dad, I moved at the age of 1 to Canada. So I am a Canadian Filipina. Honestly, though, sometimes Filipinos piss me off. Of course, that's not a generality,but maybe it's just the Filipinos in my area? I'd like to think of myself who looks on the bright side and has self control. I'm usually not so arrogant about myself, but I think I have pretty good self control.
Do you know how much people I wanted to punch in the face but haven't?
My friends say that I'm pretty (Yeaaaah, not me

), intelligent, strong, funny, polite, a "goody-two-shoes" and fashionable. It's funny when people look at me and don't think I'm strong because I'm 5 feet and 3 inches and look small. Haha, just had to point that out.

I hate it when people are telling me what to do and critisizing me constantly.
Those are the people I wanna punch in the face.
It's as if they're controlling my life and it's just like, hey buddy, back off.

Also, I hate it when people assume things for me. It's like they "know" everything in my life and they don't at all. Other kinds of people that I hate are fickle ones, arrogant ones, ego-maniacs and big fat meanies.

Rankings


Morning Musume


Berryz Koubou


C-ute


S/mileage


Up-Front Soloists



Updated AKB Rank (From AKB Ranker, so not current lineup)


Happiness
Coming soon:THE Possible, Canary Club, f(x), Momoiro Clover, TOKYO GIRLS' STYLE and 9nine.
I also like music from Aso Natsuko, Dorothy Little Happy, EXILE, HY,Nishino Kana, Kato Miliyah, May'n, momonaki, Mr.Children, Nakashima Mika, Otsuka Ai, Sphere, SweetS, Tomato n' Pine, and WISE.
---
Community Stats
Group

Senpai

Active Posts

2,086

Profile Views

7,766

Member Title

Graduated member

Age

17 years old

Birthday

March 19, 1996

Gender

Female

Location

Canada
Previous Fields
Favorite Idol

Sudou Maasa + Niigaki Risa
Viewing Profile: Mei.ka~