Akdong Musician is a Korean sibling duo signed to YG Entertainment with a style best described as a blend of pop and folk. They made their debut on the audition show K-Pop Star in 2012 and won, becoming very popular even when they were just contestants. They just made their official debut last month with their first album, PLAY.
In my opinion, these guys are amazing. I mean it, even if you think that you don't like K-Pop, I still highly recommend you check them out because they are just that great!
Lee Chan Hyuk is the brother. He is 17 years old and writes the lyrics to and composes all of their songs as well as providing vocals and guitar. Lee Soo Hyun is the sister. She only just turned 15 years old a few days ago and she provides the main vocals as well as percussion. They are so young and so talented, it's amazing!
Discography
1st Studio Album - PLAY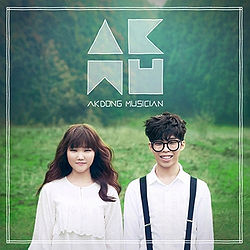 Released: April 7th, 2014
Tracklist:
In the tracklist above I have linked to audio-only YouTube videos that include lyrics! I highly suggest you pay attention to them, some of them are really witty and just plain great. I love the lyrics to "Artificial Grass" especially. Their lyrics (and their music in general) has an air of innocence about them that I adore.
I have had this album on loop for the past several days and haven't gotten tired of it at all! I like all of the songs but my personal favorites are Give Love, 200%, Artificial Grass, Subject (although I prefer the live acoustic ver.), and Galaxy.
Here are the music videos for Melted, 200%, and Give Love!
Give Love's music video is a continuation of 200%'s. You can understand most of it from just watching (it's really cute!) but for those that don't know Korean, in the music video for Give Love it is revealed that the girl who Soo Hyun thought was the cute tall guy's girlfriend is actually her brother (because the text she receives from him says 'Mom said to come home for dinner')!
I hope you enjoy the Akdong Musician cuties! They have other songs that were released during K-Pop Star but I'm too lazy to link right now, haha.