Ugly-chan
Member Since 17 Mar 2010
Offline
Last Active Oct 28 2014 04:28 AM
About Me
~MY FAMILY IS MY LIFE~
http://www.youtube.c...ature=youtu.be~
~All About me!

Married 22-year-old Puerto Rican female, living with my husband in South Florida.
I would love to one day do something big! I want to write a book, perform on a stage, or be an icon to people! But for now I will focus on being the best wife and mom there will ever be!
Career-wise I'm an Assistant Manager for a Retail Fashion store in the nearby mall, and it's loads of fun

I love my job!
~Other hobbies and obsessions:
Star Wars
: 8 t-shirts, 3 books, 1 omnibus comic book collection, the 1st comic book issue released by Marvel (framed), two goblets, 1 R2-D2 piggy bank, 2 mugs, and all movies on DVD, hope to get them soon on Blu-ray. Very afraid for the upcoming franchise by Disney..
Other Jpop Artists I like
: Utada Hikaru, OLIVIA, Nakashima Mika, Tsuchiya Anna, DiVA, Kawai Naoko, and the occasional AKB48
Nightwish
: Currently have physical copies of all their albums except Imaginaerum, a bit upset over Anette leaving, not sure if I want to see them live until I see what their next stages are and what singer they will end up with!
X-Files
: finished watching whole series and movies, and in the process of collecting the comic book series (have three covers of issue 0, issues 1 and a rare issue 1/2)
Anime/Manga:
My favorites are Fruits Basket, NANA, Cardcaptor Sakura, Slayers, and Fushigi Yuugi
FIGURINES:
[anime:] Lucky Star's Konata, Tsukasa, Kagami, Misao, and Yutaka; Vocaloid Neru; Sailors Moon, Jupiter, Mars, Venus, Mercury, and Black Lady; Drangoball's Goku and Shenron
[non-anime:] Family Guy's Brian; Futurama's Zapp Brannigan; Han and Leia from Star Wars; Spawn; Spiderman

Feel free to look me up on YouTubeand Tumblr
Rankings:

(H!P Ranking according to http://usachan-peace.../sort/sort.html, 06/2013)
My top Momusu gens (in sig form):



~Current Collection: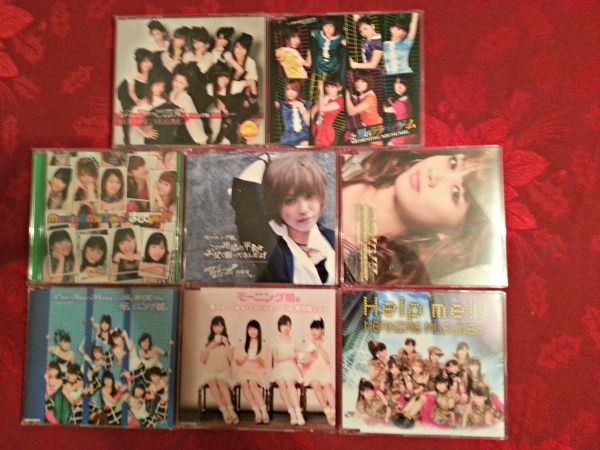 ---
Community Stats
Group

Senpai

Active Posts

1773

Profile Views

10097

Member Title

Super Wifey!

Age

23 years old

Birthday

July 30, 1991

Gender

Female

Location

West Palm Beach, FL

Interests

H!P, Star Wars, reading & writing, drawing chibis, eating taco bell, watching anime, singing & dancing, romancing
Previous Fields
Favorite Idol

Suzuki Airi
Viewing Profile: Ugly-chan