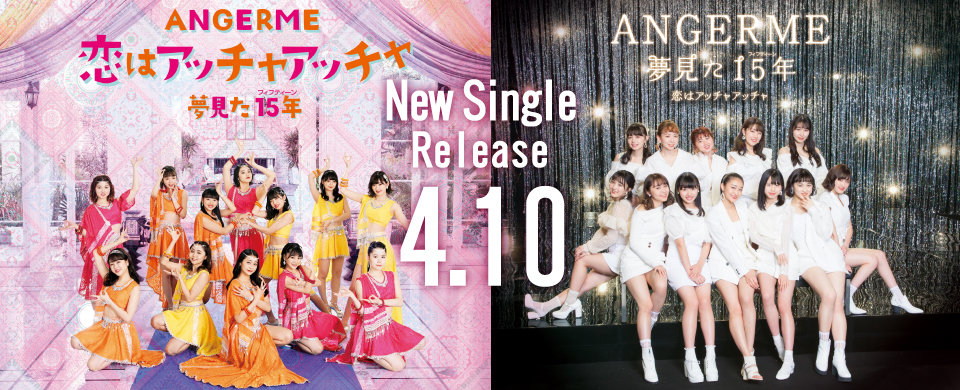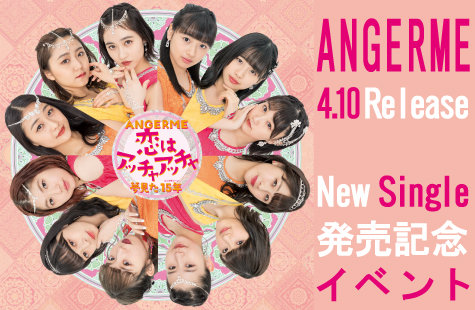 Announced on The Girls Live,
ANGERME will release a double A-side single, "Koi wa Accha Accha / Yume wa 15nen (Fifteen)" (恋はアッチャアッチャ/夢見た 15年(フィフティーン)) on 4/10.
This is Wada Ayaka's last single and Ota Haruka & Ise Reira's debut single.
Quoted from Mr. A
Wada Ayaka :
"Koi wa Accha Accha is "India" themed with "Indian-like" music and an attractive dance as the highlight. I'll be glad if you listen to it a lot."
Her graduation song : "Yume Mita 15nen (Fifteen)" represents the 15 year history and changes between S/mileage and Angerme.

She auditioned for Eggs on June 19th, 2004. Her graduation is June 18th, 2019.
Announcement video clip from The Girls Live
https://twitter.com/...607568663306240
Release page
http://www.helloproj...ail/HKCN-50591/
Koi wa Accha Accha special site
http://r.helloprojec.../angerme/accha/
tracklist :
1. Koi wa Accha Accha (Lyrics by Kodama Ameko, Composition by Hoshibe Sho, Arranged by Hirata Shoichiro
2.Yume Mita 15nen (Lyrics by Fukuda Kanon, Composition by Iijima Ken, Arranged by Sumikama Tomohiro
3.Koi wa Accha Accha (Instrumental)
4.Yume Mita 15nen (Instrumental)

LE A DVD (Koi wa Accha Accha Music Video)
LE B DVD (Yume Mita 15nen Music Video)
SP DVD (Koi wa Accha Accha Dance Shot Ver., Yume Mita 15nen Dance Shot Ver.)
Covers
Limited Edition A



Limited Edition B

Limited Edition SP

Normal Edition A

Normal Edition B