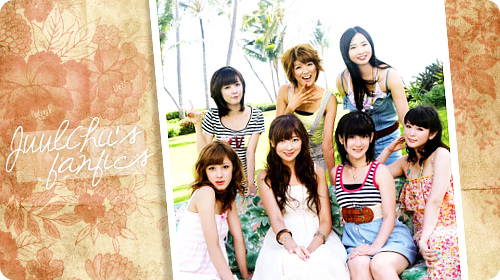 Welcome



Please know, that English isn't my main language, and that I'm still learning. So there will be many grammar errors and easy word chose.
Yoroshiku!
For more works, please visit my Archive of Our Own profile: http://archiveofouro.../users/JuulChii

Fanfics
Otakebi Mansion
Genre: Horror
Status: Complete
Chapters:
Chapter 1 down here
Chapter 2
Chapter 3
Chapter 4
Chapter 5
Chapter 6
Chapter 7
Chapter 8
Chapter 9
Epilogue

My first fanfic about Berryz Kobo.
Story takes place in Berryz Kobo DVD Magazine vol. 20. Saki, Maasa and Miyabi enter the Haunting House, where they are trapped in a new dimension full with real ghosts...

Buono! -mission-
Genre: Humour / Adventure
Status: Complete
Chapters:
Chapter 1/2
Chapter 3
Chapter 4
Chapter 5
Chapter 6


A fanfic about Buono!.
This whole idea is from the MY BOY MV. What if stealing the cake wasn't just part of a MV, but a real plan made by Buono?

The Journey
Genre: Humour / Drama
Status: Complete
Chapters:
One-shot

Fanfic about Maasa and Momoko. No slash.
Story takes plays after Berryz Kobo DVD Magazine vol 18. Berryz were playing games.
The two who scored best are in the Celeb group, the three girls after Standard and after that Bad. Momoko and Maasa are left alone, with only a map that would help them to find their way back to Tokyo.

A Life That Matches with Roses
Genre: Romance
Pairing: Momoko/Chinami
Status: Complete
Chapters:
Fanfic about Momoko and Chinami. Contains slash.
'We always had a weird relationship. We can't stand each other with others, but when we're alone, something different happens.'

Choices
Genre: Make-Your-Own-Story
Status: Cancelled
Chapters:
Chapter 1
Chapter 2

Fanfic about Berryz Kobo.
Imagine you wake up in the middle of a concert. You have no idea who you are, but you recognize the people beside you.
And at some point, you have to make choices. Will you choose the good path or...
~Otakebi Mansion~
Chapter 1

Today, we went to an amusement park for our 20th DVD Magazine. In the beginning, Miyabi chan blindfolded us and brought us in a bus, where we made the teams. I was in team A, together with Risako chan and Kumai chan. Team B was composed of Tsugu chan, Chi and Saki chan. In the park, we did all fun stuff, like ice skating (my back still hurts from pulling up Tsugu chan) and did a searching quest.
This time, for our last mission, we wanted to pay Miya back and we blindfolded her and showed her to the mansion, the Otakebi Mansion.

"W-what are we gonna do here?" Miyabi Natsuyaki asked. After she took of the blindfold, she stared to the big, old building, what didn't look very welcoming. All the Berryz Kobo members stood around her and grinned.

"This is where you go in," explained Saki Shimizu, also named by Captain. "This is what we call the Otakebi Mansion."

"Really? Is this building really named after that?"

"No, we just made that up," Chinami Tokunaga said. "But it's cool, ne?"

"Cool?" Miyabi said surprised. "It looks really old and it's all dirty, you can't even see that it's white!"

"Maybe it looks a lot better inside," Yurina Kumai said.

"You mean darker," grinned Chinami.

"No way I'm going alone!" decided Miyabi. She crossed her arms and tried to look angry, but you saw in her eyes that she was scared, even if someone went with her.

"Okay then, you can choose who's going with you, the others will go in groups of two," Captain said.

Miyabi nodded and sighted with relief. Then she looked up and looked at every member. First to Momoko Tsugunaga, who immediately made a cross with her arms.

"Dame, muri, yada*! I'm not going in!" she almost screamed. Risako, who stand next to her, did the same.

"Me too. I'm going to stay here with Momo," she said.

"I'll go," Maasa Sudou said, with her arm up. She walked to Miyabi, who was very happy to have Maasa with her and thanked her. And then she looked at Captain, who nodded, and was even happier.

"So me and Kumai chan will go together?" Chinami asked. She gave Yurina a high five and said with full spirit "We'll be alright."

The staff gave Maasa and Chinami a flashlight, explained to the two groups that they just had to walk straight, the team of Miyabi went first and then later Chinami and Yurina.
Momoko and Risako wished them good luck, and told them to keep their walkie-talkie on, so that they could communicate.

And then we walked into the Otakebi Mansion, hearing Tsugu chan and Risako chan yelling good luck. The first thing I noticed was that there was a cold breeze, no idea where that came from. Everything was dark, the only light was from our flashlight which I was holding. Miyabi, who was walking between me and Saki chan, screamed a bit and held us tightly. Then Saki chan and me comforted her, telling that there is nothing to be afraid of. We sometimes heard Chinami and Yurina laughing in the walkie-talkie, so we thought that it wasn't as bad as we first thought. Until…

"What was that?" a voice was heard through the walkie-talkie.

Miyabi, Captain and Maasa stopped walking and listened to it. It is Yurina's voice which sounded very scared.

"I-I don't know," stuttered Chinami. "Let's just walk further."

Maasa picked up the walkie-talkie. "Hello? What is wrong over there?"

There was a long pause, suddenly they heard a growl. The two girls screamed and heard them panting, suggesting they were running.

"What was that?" Miyabi squeaked.

"I don't know," Maasa said, still listening to the device where Yurina and Chinami were screaming. Then they heard something heavy has fall. The girls gasped and turned around. All of them tried not to say a word, even when Momoko tried to ask what was going on. Miyabi pinched in both Maasa and Captains hand. A door cracked open, and something walked slowly out of the chamber. It was panting really loud, and they heard it walking slowly towards them. Miyabi opened her mouth, but there was no sound. They were frozen, unable to move, as the creature came closer.

Maasa's grip on the flashlight weakened, and fell on the floor. The girls snapped out of the trance, and the creature screamed. The light shined right on his face, and the girls could see his face. It looked maimed, it had all cuts and bruises, and the eyes looked like two black holes. As quickly as she could, Maasa picked up the flashlight and the girls ran as fast as they could. It didn't matter where, as long as it was far away from it. They somehow found a door somewhere, opened it and smashed it closed. Maasa and Miyabi where lying on the ground as Captain stayed by the door, leaning with her back against the door.

"What-the-heck-was-that!" Captain screamed. Miyabi was sobbing while Maasa tried to catch her breath. They were all speechless at what they just saw.

Captain looked at the walkie-talkie in her hand, where a lot of noises were coming from. "Moshi moshi?"

"Finally!" Risako yelled. "What happened to you? Chi and Kumai chan are already back, and you guys didn't respond anymore!"

"You have no idea what we just saw," Captain brought out.

"We heard all that scary stuff around us and we just ran as fast as we could outside," Yurina told them. "It was really scary, ne"

"Right," Chinami confirmed.

"And what did you see?" Maasa asked.

"Nothing, we just run and founded the exit. The people who work there are really mean, making all those scary noises."

"Miya, are you alright?" Momoko asked. "You haven't said anything yet."

Miyabi was still lying on the ground, now on the side, with her face to the wall. Captain crawled to her as Maasa stayed by the door. Captain made Miyabi to sit and gave her the walkie-talkie. Still not showing her face, Miyabi took it and said with a hoarse voice "Hello?"

"Miya chan! Don't worry, né. It isn't real, so just stand up and come to us, okay?"

"It wasn't someone from the staff," Miyabi said, almost whispering. "I don't even think it's human." Her voice was very calm, with no emotion.
Captain holds her hands as tears fell from Miyabi's cheek, but she didn't cried. Captain tried her best not burst in tears. Maasa could only look to the ceiling, thinking of what just happened, and listened good to the sound behind the door.

On the walkie-talkie, there was a pause. "What do you mean, not human? It's just some people who were trying to scare you." Momoko voice was a bit startled. The other girls where murmuring on the back.

"There are no camera mans with us," Captain tried to change the subject.

"That's right, they just came back. Maybe we should've told you. But they told us they couldn't find you anymore."

"Well, they can better come back here, we have it cold and are a bit lost." Captain looked at the door. "Maasa, could you open the door and see if it's safe?"

Right when Maasa wanted to stand up, Miyabi turned her head at her. "Don't!"
Her eyes were red, full with tears and her mascara already melted. Her face was in terror, as she stretched her arm out to the door. "Don't!' she said again.

"It's alright Miya," Captain said. "They won't scare us anymore, I just told them that-"

Miyabi pushed Captain off her, making her stop in middle of her sentence. "Didn't you recognize what we just saw? It isn't someone who works here, but a ghost!"

to be continued

*= She's actually saying no in three different words