0
KITAAA~!
My fangirl merchandise came today!! Well, some of it, but still YAAAAY!!!
Okay, so I totally didn't realize that the photocards on the Hello Store were 2L pictures, so when I opened up my package I was like...


WTF??


Then I was like...


Oh~ yes~


I sort of came across a great deal of money the last week and decided that I was going to go a little nuts on fandom


I never in my life thought I would spend that much money on something I liked so much.
This is what I got today:

3 9-Smile T-shirts w/ wristbands...
(Gaki's and Kame's t-shirts no picutred

)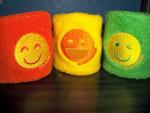 ...and photo cards




And here are the 2L photocards I got




I ordered a lot more stuff, but at different times, so they won't come all at once...
The other stuff I bought include one of each version of the Kimagure Princess, 2 photobooks (Aichan and Gaki), and a crap load of photos.
My goal is to have a whole wall full of photocards someday


Me and my younger sister are competing a little. She really likes Arashi and is buying their posters and stuff, but so far I'm in the lead!!....well in numbers...
The only thing she beats me at is that her posters are REALLY FREAKIN HUGE!!
So please support me in dominating this competition!
I will keep you updated when my other things come in



Here's a picture of what my little corner looks like so far...




I also have a Shouganai Yume Oibito jacket poster to the right that I got at AX, but it didn't fit with everything in the picture,
and I'm too lazy to take another pic of it



Have a good night!