1

aMI TOKITO gets married . . . to the wrong guy
aMI TOKITO
DAISHI
Psycho le Cemu
Mari Yaguchi
Cry For Help
Cinema Paradise Co. Ltd.
visual rock
Vietnam
Yoyogi Park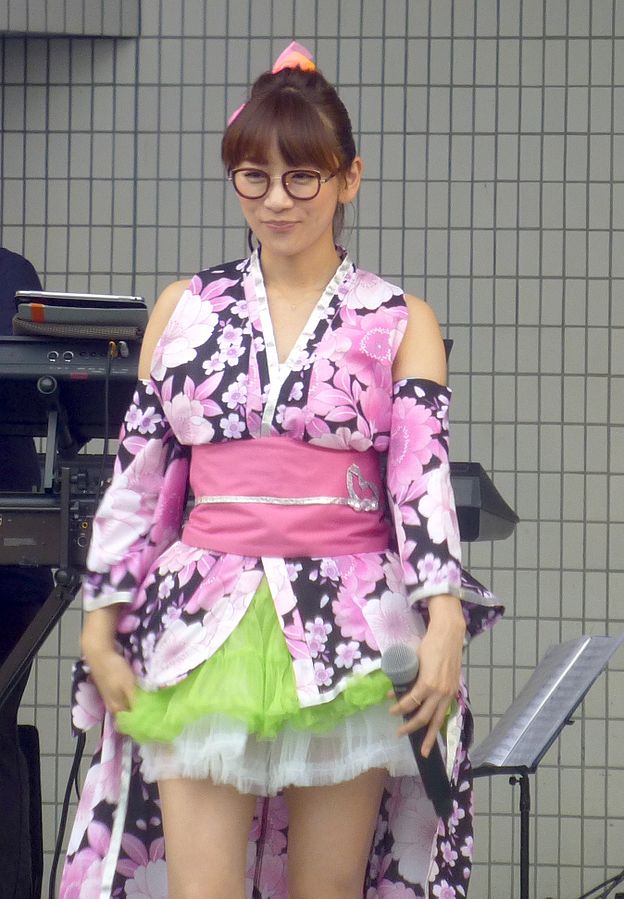 I came to find out that on October 9, aMI TOKITO got married. (At left is an image of aMI TOKITO from a Vietnam festival, on June 12, 2016, in Yoyogi Park.) Her husband is DAISHI, vocalist of the visual rock band, Psycho le Cemu. I have seen this translated as 'Psycho le Shame.'
I think she married the wrong guy for a couple of reasons. For one, he was born 2/5/76, which makes him 40 years old. aMI just celebrated her 29th birthday on September 25. So, there is an age gap of more than 11 years. For another, her new husband has a criminal background. According to a couple of sources, back in 2005, the husband was found to have methamphetamine in his system, via urinalysis. (As an aside, I don't understand why a rock musician would be routinely subjected to urinalysis. I bet he was already busted once, and they gave him a chance to go free, subject to periodic testing.) Anyway, he was sentenced to 1 year, 10 months. This created a big inconvenience for his band mates, and the band was put on hiatus during this time, and all of their merchandise was pulled from the shelves. I don't know why aMI would get mixed up with a convicted drug offender, hit records or not. Plus, methamphetamine is one of the nastiest drugs. If you have never seen a 'before and after' video of people who took meth, I suggest you look one up on YouTube. It has a devastating effect on a person's body, and generally results in death after a few years. To his credit, the husband is still alive, so apparently, he is no longer taking meth. From the photos I've seen of this character, he doesn't smile much. Also, he likes to pose with a handgun, though with his outfits, it seems a foam sword would be more appropriate.
I saw where aMI posted a lot of photos of her with the kids of her friends and her young family members. She seemed to be really happy in those photos. It looked like she got along well with kids. I know for a lot of people (particularly women), they don't consider their lives complete until they have kids. When a lady attends a lot of weddings, she gets to thinking about getting married herself. I understand that. It is a natural thing. But to get involved with a joker like that . . . I just can't imagine him being a very good husband and father. Then again, I thought Mari Yaguchi found a good guy to marry. That marriage ended up in a divorce after about a year. So, I guess one never knows about such things. aMI seems pretty happy about it. She was retweeting a lot of congratulatory messages from her friends and associates. Oh, and by the way, I haven't seen any response from Mari Yaguchi. I know she is acquainted with aMI, as they appeared in a musical stage play, "Cry For Help," in 2007. I also came to find out that in 2012, a photo magazine published that aMI and her husband were dating. At the time, however, aMI refuted the story on her blog. She stated that they were best buddies.
On a slightly more positive note, aMI is appearing in a new film, distributed by Cinema Paradise Co., Ltd. I can't read Japanese, so I can only say that it is called something like "Fighting Man and the House without a Girl." From the looks of the trailer, it is extremely violent. It shows guys hitting each other with bats, iron rods, and their fists. I don't think aMI has any fight scenes, though. The trailer just shows her talking on the phone.