1

Another MM original
Aya Ishiguro
Ayappe
Morning Musume
First Generation
Love Machine
Joshi Kashimashi Monogatari
Tanpopo
Nozomi Tsuji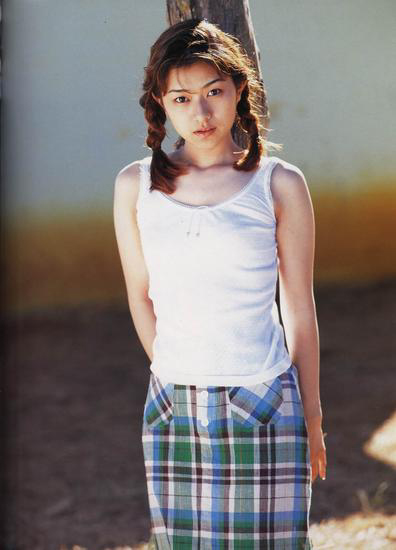 OK, so for this blog post, I'm going to address another pre – JKM member of Morning Musume. In particular, the focus is on Aya Ishiguro. She was one of the original five members of MM. She was also a debuting member of Tanpopo.
Aya Ishiguro was born in 1978, which makes her 36 years old. She is holding up quite well, however. In her appearance at the last live of Dream Morning Musume in 2012, she looked like she was in her mid-20s. Anyway, she was part of MM for their first seven singles. Of course, their biggest hit, "Love Machine," was their seventh single. So, you could say she graduated at just the wrong time. Or, you could say that she graduated at just the right time. Who knows? Apparently, she wanted to start a family. In less than a year, she married a musician, Yamada. Shortly thereafter, she gave birth to her first child. She and Yamada are still married, so I guess they should get credit for that. Also, they have three kids. This means that Aya Ishiguro is tied with Nozomi Tsuji for the ex-Morning Musume member with the most kids.
Anyway, why am I writing about Ayappe (her nickname)? I guess you could say that I got interested in her by watching the PV for "Love Machine." I started wondering who all the girls were, especially those who weren't in the original PV for JKM. Some of those were Ayappe, Yuki Nakazawa (addressed in an earlier blog entry) and Kei Yasuda. It wasn't hard to learn the second generation members. I already knew Mari Yaguchi from JKM. Kei Yasuda is kind of unique looking, so I learned who she was. I addressed Sayaka Ichii

in the previous blog entry. I was curious about her due to her beauty. So, that leaves Ayappe. I thought she was good looking, but not 'that' good looking. She seemed like a pretty cool member, though. Also, maybe the way she looked seemed more accessible than the more starkly beautiful members. Eventually, I learned who she was. I guess what prompted me to have enough interest to dedicate an entry to her is that I was intrigued by her return to performing, after a 12 year absence, at the DMM concert referred to above. Gosh, 12 years is a long time. I was impressed by how little her appearance had changed. Plus, she seemed like a very humble person.
I checked out her blog, and she is quite active at updating it. There is more than one entry per day so far this month. (That beat me by a factor of 10, ha ha!) Anyway, it looks like she is a chef or food personality or something. About 80% of her blog entries have a picture of food with them. There were a few pictures of her, however. It looks like she appears on TV occasionally. One entry had a photo where she was making food for a TV show. Some other ones had photos where it looked like she was interviewing someone for a TV show. Not to completely obsess about looks, but she looked quite nice in the photos. Her hair is somewhat long now, about down to the bottom of her ribcage.
OK, well, that's about all I have to say about Aya Ishiguro, except that I wish her the best of luck in her professional and personal endeavors.

She is definitely a Morning Musume original.