1

idol stars on Twitter
Asami Abe
Mari Yaguchi
Mika Todd
Gyaruru
aMI TOKITO
Mini Moni
Asuka Hinoi
Makoto Ogawa
Nozomi Tsuji
Ai Kago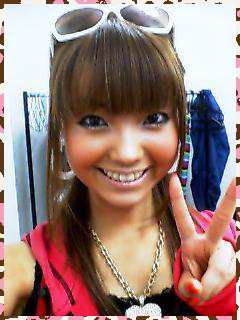 Hello! I hope everyone is doing well. Don't forget to write '2014' when you are dating documents, signing stuff, etc., ha ha!
In my previous entry, I discussed the scandal(s) of Ai Kago. You are probably aware of the situation when Nozomi Tsuji was supposed to debut with Gyaruru. It was going to be a group consisting of Tsuji, aMI TOKITO, and Gal Sone. Well, it turned out that Tsuji got pregnant, dropped out of the group, and got married, in rapid succession. (Official announcement of Gyaruru on April 24, '07, Tsuji retiring from Gyaruru on May 8, married on June 17.) Anyway, they had to make a quick substitution of Asami Abe for Tsuji. The group (Gyaruru) never really clicked, despite having a very catchy and original first single, "Boom Boom Meccha Macho." If you haven't seen the PV for this song, you owe it to yourself to watch it. Note that there is a 'story' version and a dance shot. The backing song of the single, "Onna no Ultra," is also good. It has a strange PV, though. It is just a series of photos of the members, to the music. I mention this because this is considered to capture aMI TOKITO at her peak hotness. It is hard to find this video on YT, though (unfortunately). Some people don't consider what happened to Tsuji a scandal, because it 'turned out OK,' but I would beg to differ. She (Tsuji) inconvenienced some people. Asami Abe was inconvenienced, because she was just thrown into the group at the last minute, as an obvious second choice. (There was another issue about a stage play that Tsuji was scheduled to appear in, but I won't get into that.) There are a lot of comments on the videos of "Boom Boom Meccha Macho" to the effect that Asami Abe never smiles. I can see what would cause this. She probably didn't have a lot of time to learn the lines of the song and, especially, learn the dance. She must have felt uncomfortable.
To her credit, Tsuji has been doing quite well for herself in recent years, and even came out with a new line of children's clothing in Nov. '13. She looks very nice, too. I recently bought the Tsuji Nozomi photobook 'Non at 19,' and wow! She was so hot at that time. That is right before her first pregnancy. Where was I? Oh, yeah, another Mini Moni member, another scandal. I'll cover Mari Yaguchi in a future post. Suffice it to say that to date, Mika Todd is the only one of the original members of Mini Moni who hasn't had a scandal. I don't think she is going to have one, either.
Which brings me to the topic I originally set out to address: idol stars on Twitter. I follow Ai Kago, and she doesn't tweet too much. When she does, it generally is just an announcement that she made a post on her blog. This is the way it was for Mari Yaguchi, who doesn't even tweet at all anymore. Neither Ai Kago nor Mari Yaguchi ever respond when I send them a message on Twitter. This downgrades an idol star a lot in my book. Mika Todd, on the other hand, does respond, about 50% of the time when I send her a message. So, I would put Mika Todd in the 'cool' category. Besides Mika, the only other H!P (or former H!P) members to respond to me are Makoto Ogawa and Lehua Sandbo/Nahina. Makoto has responded to me on a couple of occasions, including wishing me a happy birthday. OK, before you jump to the conclusion that only the stars who know English will (or can) respond, keep in mind that I am tweeting them in Japanese. I keep it really simple, too, because I know stuff can get lost in the translation. Plus, as I mentioned in a previous post, aMI TOKITO and Miho Ohyu have both responded to my tweets, multiple times for both.
OK, so, to recap, the cool ones are Mika Todd, Makoto Ogawa, Lehua Sandbo/Nahina, aMI TOKITO, and Miho Ohyu.
Aya Matsuura, Ai Kago, and Mari Yaguchi . . . not so much.
Asuka Hinoi is a special case. While she has never responded to any tweet that I have sent her, she actually followed me back. We (Asuka and I) are friends on FB, too. So, on that basis, I include her in with the 'cool' people.
I'm not sure if Tsuji is on Twitter. It seems like I have seen her come up in the left hand column, you know, the 'people you should consider following' column. I just didn't have the desire to follow her. I guess I lose interest once an idol star starts having kids. If they are married, but without kids, they are still interesting to me. I followed Mari Yaguchi until her hiatus. (I still follow her, for whatever that is worth.) When an artist has kids, though, idk, they just aren't attractive to me anymore. Excuse me, if there are any ladies reading this, especially ladies with kids. That's just the reality for me. I'm sure not every guy feels that way, but I bet a lot of them do. As an aside, I heard that the number of comments on Mari's blog dropped significantly when she got married. That would seem to indicate that some fans fall by the wayside when a girl gets married. We'll see what happens with Ai Takahashi. This will be another case study.
I could probably say more, but let's stop here for today. Have a nice evening, and I encourage people to comment.