1

more Japanese idol stuff
Koharu Kusumi
aMI TOKITO
Asuka Hinoi
Hinoi Team
Miki Fujimoto
Keika Matsuoka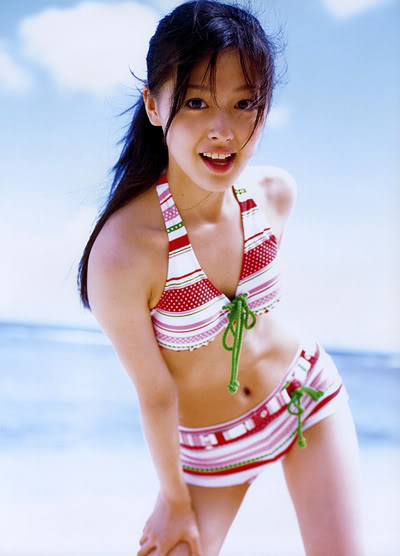 Hello everybody! I've been in this groove the past couple of nights where I wake up at 3 or 3:30 a.m. and have trouble getting back to sleep. So, tonight, I thought I'd do something productive (sorta) and update my blog!
One thing that bothers me is that it doesn't seem like Koharu Kusumi gets the respect she deserves. As I mentioned previously, when MM was 9-nin, she was the most genki in the group. The consensus is that she can't sing, but I disagree. Her singles were for an anime where the lead character was a child. She had to sing in sort of a nasal or childlike way. I even like the way her singles sound, especially the upbeat/fast ones. Keep in mind that when she came in, there were such high expectations (the 'miracle' member and all that). It would have been hard for anyone to live up to that. She was just girl, too (like 14 years old, right?). I don't think she got proper mentoring. Sayumi had only been in the group about two and a half years when KK joined MM. Forgive me Sayumi fans, but she didn't come across as much of a leader at that time. A different member (Kamei or even better, Fujimoto) would have been a better mentor. People make such a big controversy that Koharu called up Sayumi one night, and asked her to come over to help her set up her fax machine. I don't see a problem with that. Koharu was new and younger, and Sayumi was supposed to be helping her. Tasks like setting up a fax machine are tricky, and I could see why Koharu needed help. Anyway, I mentioned Miki Fujimoto, which made me think of something. I see some similarity between Miki and Koharu. Both of them had a very 'cool' attitude (aura?) when they were in MM. I'd even venture to say that they came across as 'too cool for the group.' Like when Miki got a boyfriend and she had to pick between being the leader of MM and her boyfriend, and she laughed and quit the group. It takes a cool person to do that. Plus, both Miki and Koharu were solo artists, in addition to being members of MM.
OK, on to aMI TOKITO. She wished everyone Merrry Christmas in her blog, but no Christmas schedule for her! She had to make appearances at ~6 pachinko parlors on Christmas. aMI was wearing a sexy Santa outfit, and she looked super-cute (as usual)! She is so active professionally, and seems to be able to keep a cheerful and positive attitude. She sets a great example. Even though she has ~17,000 followers on Twitter, she takes time to communicate with them. Just before starting this entry, I was watching the PV for aMI's single "I'm a lady." It is impressive. She has great acting skills. Once again, I wish I understood Japanese to tell what it is about. She seems sad (in the video). She looks like she needs to be comforted, and I'm just the person to do it, ha ha!
Another of my admired idols is Asuka Hinoi. I also like her group Hinoi Team. The most redeeming characteristic of Asuka is her beauty. Her singing is good. I'd say not quite as good as that of Miki, but better than Koharu. In addition, Asuka's dancing is excellent as well. I have watched some of the dance shots of Hinoi Team slowed down, and I am wowed by the dancing ability of Asuka Hinoi. For those of you who don't know, Asuka Hinoi was a solo artist (singer) with Avex in ~2002. She was a child actor on J-dramas before that. She had two singles, and they weren't up to management's expectations regarding sales. So, they hired three other girls (Hikaru Koyama, Rina Takenaka, and Keika Matsuoka) to form Hinoi Team (aka 'Hinoi Chimu'), along with Asuka. They were basically a para-para unit, that recorded covers of eurobeat tunes. Their first two singles did OK, but not fabulous, in terms of sales. Avex got the idea to add Korikki Chosu (a comedian and wrestler) to the group, and released a song called "Night of Fire." This was the hit of Hinoi Team. They released another song with Korikki that didn't do as well, and he left the group. Hinoi Team released two more singles, which are well regarded by Hinoi Team fans, but once again, did not do particularly well on the charts. At this point, Keika was struggling academically, and her mom was concerned that she wasn't going to get into a good high school. So, she quit the group and the group was disbanded. Asuka had a couple more singles, but they sold even less than the Hinoi Team singles. (Oh, I left out that at the time of the second single with Korikki, Hinoi Team released an album. It is called "Super Euro Party," and I'd highly recommend it. It is available for purchase even today.) So, Asuka was cut loose from her contract with Avex. She had a couple of modelling contracts with teen magazines, and they came to an end, too. She (Asuka) had a radio show, and that ended as well. This was at the point where I became interested in Asuka and Hinoi Team. I guess I like underdogs, ha ha! Anyway, it seemed like Asuka was completely out of show business at this point. She was living on her own at age 19. She resorted to being a barista in a Pinkberry shop. About the only thing she had going for awhile was her blog. Supposedly, a person must be under contract with an agency to have a 'powered by Ameba' blog. Asuka had an ordinary blog, like any common individual could have. Somehow, she was able to get a 'powered by Ameba' blog. Maybe somebody she knew from her previous professional work helped her. So, she was just updating her blog every few days, for about a year. Slowly, however, she has been working her way back into show business. She is a member of a theater group, and they had a performance. She got back on TV, with a small role in a police drama. So, I keep supporting her and wishing her the best. The story of Hinoi Team is poignant, if not tragic. As I saw in a comment on YT, Hollywood doesn't address stories like that of Hinoi Team. Asuka and Hikaru went to a 'special high school for young people in the entertainment field.' I gather that these schools aren't well-regarded in Japan, and that they don't lead to college. So basically, they sacrificed their academic careers for the dream of making it big as idol stars, and it didn't quite pan out. Keika and Rina were a little younger. As I mentioned, Keika bailed in time for her to get into a good high school. Keika is currently studying at Kobe Design University, and will graduate in ~2015. She (Keika) occasionally models. I'm not sure what Hikaru or Rina are up to. If anybody is interested, Asuka is on Twitter (@hinoi_asuka). She (Asuka) hasn't responded to any of the tweets I have sent her, but she follows me. We are friends on Facebook, too. I guess I should mention another admirable quality of Asuka, and that is perserverance. Now you know the reasons I like Asuka Hinoi!
I wish everyone a safe and enjoyable holiday season!