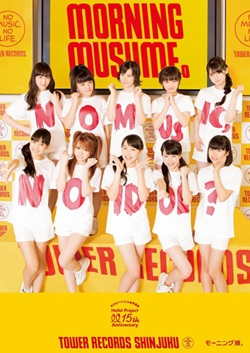 Over the years, idols have become an irreplaceable existence to me. Somehow, even though we're miles apart and we never met, they managed to create a certain feeling of proximity that I don't get out of regular singers. I can't remember how many of my days were saved just by watching a concert video, or even simple pictures.
Yet, as much as I love them, there's still one thing that bothers me: I'm still ashamed to openly admit that I'm an Idol fan. My close friends or relative do know, of course, but even to them, I don't disclose how much of a Mizuki fan I am for exemple. I would never admit to someone i know little that I enjoy watching teenage girls singing and dancing, they would find me weird O_o Even to collegues that I'm close to, i joke about it by saying that I listen to girls in mini skirt (that's my catch line at work) but i never let them listen to those songs (tough they asked numerous times).
Right now, what I'm wondering about is:
- Am I the only one that have trouble claiming my fandom openly ?
- Would it be easier to claim my fandom if i was surrounded by similar ppl ? (i suppose yes, that's the reason I started this blog here)
IIIIDDDDOOOLLLSSSSSS DDAAAAIIIIISSSSUUUKKKKIIII !!!!!!!!!!!!!
(I'm allowed here, aren't I ? O_o)
EyC-FTT